HRSG Service Solutions
Service Detail from Alstom Power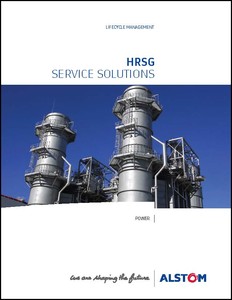 Alstom's HRSG Product Center team is confident that our understanding of HRSG technology will provide combined cycle plant owners and operators the effective upgrades and improvements to their HRSGs that they require. By working directly with the Alstom new equipment group, HRSG Product Center team is able to provide detailed modelling for performance optimization and engineering design for material upgrades. As an OEM of all major combined cycle power plant systems, Alstom HRSG solutions are designed with an optimum plant integration in mind. Furthermore, our experience and knowledge base can be applied to non-Alstom designed equipment.

Recent activities of the HRSG Product Center team have included:
Upgraded boiler pressure parts for existing Alstom and other OEM units
Modularized and prefabricated casing panels for improved insulation of the unit
Equipment enhancements to prevent the negative effects of transient loads during cycling operation
Adaptation of HRSG to support Gas Turbine upgrades
Revised and upgraded critical auxiliary components and systems including control valves, desuperheaters, and high energy drain systems
Speciality detection systems for desuperheater overspray or condensate flooding
You have successfully added from to your part list.
---