High Energy Ignitor with Retract (HEIR)
Product Announcement from GE & Alstom Power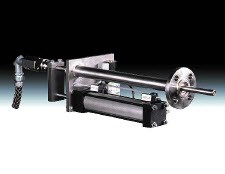 The LIMELIGHT™ High Energy Ignitor with Retract (HEIR) is designed for reliable direct ignition of either light or heavy oil guns. It is a direct replacement for existing hardware and provides new technology for state-of-the-art performance.
This ignitor uses high energy arc technology that has proven with hundreds of installations to be one of the most reliable ignition sources for fuel oil.
Patented solid-state exciter circuitry can be supplied in an advanced LIMELIGHT™ Ignitor Control Cabinet that accepts worldwide input voltages or as a retrofit into an existing cabinet.
Upgraded spark tip materials and design provide rapid, efficient ignition while preventing fuel residue buildup.
The semi-conductor material resists erosion as it is imbedded within ceramics in the tip. Therefore, tip life is extended and stable performance is maintained.
The LIMELIGHT™ High Energy Ignitor with Retract consists of:
Ignitor rod using SOLID SPARK™ Technology
High energy power pack
Wire harness assembly
Retract cylinder assembly insert/retract limit switches, solenoid valve for insertion of the HEIR and a standard 1" flange mount connection
The design allows for easy installation and inspection as a complete assembly or as individual components.
Fully assembled, you simply install the ignitor, connect your wiring to the power pack and limit switches, connect to your air source and you are ready for operation.
Features and Benefits
Applicable for direct ignition of oil guns as well as oil ignitors
100% solid-state electronics eliminate the spark gap used in the firing circuitry of other designs
12 Joules at 4 or 20 sparks per second for a powerful spark discharge for either light or heavy fuel oil
Ceramics provide an extended tip life
Easily replaced components
Self-cleaning tip resists fouling from unburned fuel and intensity for better ignition
Output spark increases in intensity as the ignitor tip wears
An 85-265 VRMS input power range at 50-60 Hz for worldwide installation flexibility
Minimal startup or set up time required for installation
Increasing Your Competitive Edge
The LIMELIGHT™ High Energy Ignitor with Retract (HEIR) is another example of the ALSTOM commitment to provide products and services to improve performance and reduce maintenance, with the goal of increasing your competitive edge.
---