High Performance Gas Pipe Ignitor
Product Announcement from GE & Alstom Power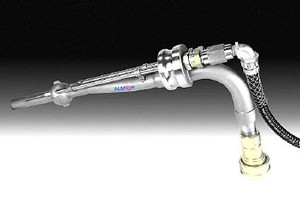 The LIMIELIGHT™ High Performance Gas Pipe Ignitor has been carefully designed to integrate the latest in combustion technology, flexibility and overall reliability.
This is a product upgrade of conventional 3" eddy plate gas pipe ignitors incorporating state-of-the-art technology to provide increased capacity and turndown capabilities.
The LIMELIGHT™ High Performance Gas Pipe Ignitor allows for improved combustion airflow with minimum pipe obstruction and and pressure drop. The improved airflow results in a higher capacity along with greater turndown capabilities. Additionally, it allows for greater immunity to fluctuations in windbox pressure.
This new design offers reliable ignition and operation with heat release rates between 0.5-18 Million British Thermal Units per hour (MMBTU/hr.)
Flexible by design, the LIMELIGHT™ high Performance Gas Pipe Ignitor can be adjusted with a pressure regulator or control valve.
The LIMELIGHT™ High Performance Gas Pipe Ignitor and its associated flame proving device were designed to meet all code requirements including the National Fire Protection Association (NFPA) and Black Liquor Recovery Boiler Advisory Committee (BLRBAC) guidelines.
This high heat output ignitor is useful in a wide range of applications. it offers a clean and efficient method for boiler warm-up and flame stabilization periods. this ignitor can also be used for bed burn out or above that stoker in a bark-fired unit.
The LIMELIGHT™ High Performance Gas Pipe Ignitor is available with the following five different heat release rate options:
0.5 - 2.5 MMBTU/hr
1.0 - 6.0 MMBTU/hr
2.0 - 10.0 MMBTU/hr
3.0 - 13.0 MMBTU/hr
10.0 - 18.0 MMBTU/hr
Different tips are available for optimum flame length and patterns.
Solid conductor rods replace internal wires to the flame rod and spark tip. This eliminates the overheating and failures found at times with previous designs. Ceramic bushings are used to insulate the solid conductor rods, resulting in a compact, well-insulated design that withstands high temperatures.
Features
Reliable ignition and operation
Easy retrofit with existing 3" pipe ignitors, resulting in minimal conversion costs for upgrade
Variable heat release rates with 5 to 1 turndown in most models allowing maximum operational flexibility when required
High temperature rated flame and spark rods included
No wiring in high temperature areas
Stainless steel construction
Ignitor internals easily removed from the guide pipe
High quality pin and socket electrical connectors
Optional retrofit with automatic or manual retract mechanism
Optional guide pipe available with upgraded material for longer life (same material as out DrySpout™ Smelt Spouts)
Meets NFPA and BLRBAC requirements
Benefits
Highly reliable start ups and operation even with fluctuations in windbox pressure
Bluff body design improves combustion airflow with minimum pressure drop
Increased efficiency results in higher heat outputs of up to 18 MMBTU/hr. This allows the ignitor to be used as a Class 1 ignitor, thereby increasing reliability and eliminating the use of scanners for main burners without replacing gas or air piping.
Maintenance time reduced with easy removal
Reliable flame detector utilizing ALSTOM's DFI flame proving technology as described in PIB 234
Reliable ignition spark during trial time periods reduces spark plug maintenance
Components allow for effortless interface with a wide variety of OEM equipment
Integrates with the LIMELIGHT™ Ignitor Control Cabinet, as shown on Page 12 of our catalog.
Increasing Your Competitive Edge
The LIMELIGHT™ High Performance Gas Pipe Ignitor is another example of the ALSTOM commitment to provide products and services to improve performance and reduce maintenance, with the goal of increasing your competitive edge.
---