LIMELIGHT Boiler Data Advisor for Power Plants
Service Detail from GE & Alstom Power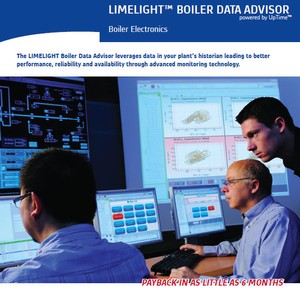 The LIMELIGHT Boiler Data Advisor predicts | equipment failures and
detects excursions from normal plant operating conditions hours or even days
before a conventional distributed control system (DCS) can trigger alerts.
The Boiler Data Advisor provides the deepest insight into plant performance, quickly and accurately locating the cause of impending failures.
The LIMELIGHT Boiler Data Advisor provides | maintenance and
performance engineers, plant operators and maintenance personnel the time
to take preventive action, thus avoiding costly downtime, equipment damage, or reduced efficiency.
Customer Benefits
Increased profitability

Early detection leads to increased availability, reduction of forced outages, and mitigation of collateral damage

Higher performance

Patented methods provide the earliest warning about operational abnormalities

Improved safety

State-of-the-art technology helps diminish the potential for catastrophic failures

Fewer unplanned outages

Facilitates better preventive maintenance decisions
Key Features
Detects equipment problems at an early stage that do not trigger control system alerts
Provides intuitive two dimensional visualization of historical plant processes
Supports OPC integration
Adjusts to changing set points and loads by using online adaptive learning
Verifies instrument operation and calibration
Utilization of ASME performance Test Codes as well as ASME steam and water tables
Intuitive User Interface
The information displayed in the user interface includes graphical views,alert logs, and navigation buttons to show plant hierarchy. The graphical views include:
Multivariate space views
Alerts vs. time
Totalizers vs. time
The Boiler Data Advisor provides two display modes:
1) The operator mode provides views that enable the user to get a snapshot of the plant operation and performance.
2) The engineer mode displays all the modeled sensors in a tree and branch format. Users can analyze all the modeled processes to discover the cause of deviations.
User Interface Features
Arrangement by equipment and systems
Drill-down hierarchical presentation
Clear visualization of plant conditions
Plots of plant sensor valves and calculations
Process dynamics that are easy to interpret
Analysis and diagnosis by plant personnel
---