Product Announcement from Alstom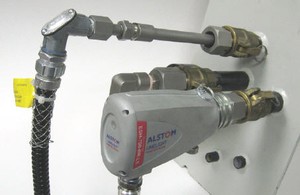 The LIMELIGHT™ Exacta Ignitor Scanner is an optical flame-sensing instrument that is an alternative design to ionic flame rod sensing devices. It can be provided as a replacement for the flame rod and IFM card or as part of a larger ignition system upgrade.
Customer Benefits
Superior ignitor flame detection with less nuisance trips

Eliminates flame rod fouling in oil ignitors

Comparable cost to ionic flame rod technology

Does not require cooling air inmost applications

Discriminates ignitor flame from fireball Provides improved operational safety
The primary purpose of the LIMELIGHT™ Exacta Ignitor Scanner is to confirm that the ignition fuel is ignited. A flame safety signal is generated for use by the ignitor control system. If the proof of flame is lost, the ignitor will trip to a safe condition.
The LIMELIGHT™ Exacta Ignitor Scanner improves safety and reliability while incorporating the latest in digital signal processing and communication capability.
Depending on the ignition fuel being fired, different detector heads can be provided with either one of the following sensors:
UV - Ultraviolet

VL - Visible Light

The LIMELIGHT™ Exacta Ignitor Scanner consists of a Flame Sensor Head (FSH) with mounting adapter and Flame Signal Analyzer (FSA). The FSA is mounted in the existing ignitor control cabinet when space is available or in an adjacent cabinet if necessary.
Commitment
The LIMELIGHT™ Exacta Ignitor Scanner is another example of the Alstom commitment to provide products and services that extend equipment life cycle, improve availability and decrease the total cost of ownership.
You have successfully added from to your part list.
---