Product Announcement from Alstom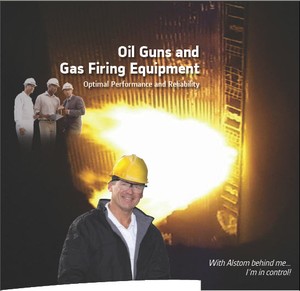 The Alstom portfolio of Oil Guns and Gas Firing Equipment consists of the following high performance products:
Parallel pipe oil gun
EVER-KOOL™ oil gun
Oil gun retract mechanism
Oil gun spray tips

mechanical
steam atomization
air atomization

Three-piece nozzle assemblies
Two-piece stationary union
Flex hoses
Diffuser vanes
Nozzle tips
Parallel Pipe Oil Gun
It is designed for mechanical, steam or air atomization of oils. Directly interchangeable with many of Alstom's previous designed oil guns, it has a stationary union and removable assembly. The stationary union terminates the oil and atomizing medium piping trains and clamps the removable assembly in position. The removable assembly consists of a union from which two pipes run side by side and then connect into the nozzle body. This connection is completely seal welded to eliminate the possibility of leaks.
Ever-Kool Oil Guns
The EVER-KOOL air-cooled design allows the oil guns to remain inserted in the firing position when not in use, without damage to any components. This high performance oil gun meets all current safety and code requirements and is an attractive alternative to traditional retractable systems.
Oil Gun Retract Mechanism
Alstom's oil gun retract mechanism provides remote automatic insertion and retraction of oil guns to and from the firing position, with gun-position indicating limit switches. This retract fits any tangentially fired furnace.
Oil Gun Spray Tips
It can be said that the most important aspect of firing oil is using the correct spray tips. At Alstom, you'll get just that - spray tips that are specifically engineered for your fuel type, flow rate, operating pressures, and turndown requirements.
Three-piece Nozzle Body Assemblies
Alstom's three-piece nozzle body is designed to make maintenance easy by incorporating a nozzle that is welded on one end to the oil supply pipe and threaded on the other end for connection to the nozzle body. The nozzle body is threaded internally on one end to connect to the nozzle and threaded externally on the other end to connect to the oil gun spray tip retaining nut. These features eliminate the need to cut the entire assembly off at the oil supply pipelines making maintenance easy.
Two-Piece Stationary Union
The two-piece stationary union was developed to minimize leaks by allowing for a minor guide tube misalignment relative to the union body ensuring a square fit-up with the oil gun removable union.
Flex Hoses
Flexible hoses replace standard straight pipe in parallel pipe oil guns when the oil gun is used in tilting tangential windbox applications. The flex hose provides a path for the oil and air / steam flow to follow and allows for expansion when in use. Fabricated from stainless steel, flex hoses are sturdy, quality engineered components that ensure availability of the oil gun when needed.
Diffuser Vanes
Oil gun Diffuser Vanes provide oil flame stabilization. They are a high
quality design constructed from stainless steel to ensure durability in the high heat zones of the furnace. The design can be easily modified to include the option for an HEI spark tip to be inserted through the diffuser to directly light the oil or to accommodate a flame scanner guide pipe for optical proof of flame from the oil gun.
Nozzle Tips
Alstom has carefully researched gas and oil nozzle tip design and developed options to address problems with this critical fuel-delivery component. The nozzle tip is the last wear component in the fuel delivery
system, and is the mechanism that funnels the gas and or oil/air mix into the furnace.
You have successfully added from to your part list.
---