Product Announcement from Alstom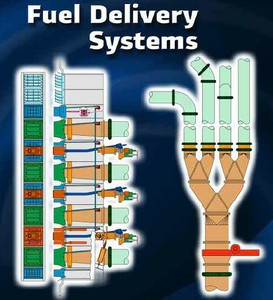 Alstom OEM parts and services keep your tangential-fired boiler operating at peak performance. Alstom supplies:
I. Coal piping,
II. Distributors & Riffle Elements
III. Coal nozzles and nozzle tips
IV. Discharge valves
V. Rebuild services
VI. Material upgrades
VII. Related fuel delivery systems and products
I. COAL PIPING AND ORIFICES
Alstom supplies coal piping and elbows to match your needs, while providing solutions that provide longer life, diffuse "coal rope" and help balance coal/air mixing.
Replacement Types include:
Cast ductile iron
Carbon steel, induction bent
Ceramic lined:
Mechanially interlocked DYNAWEAR™ wear-resistant product
Vacuum bonded DYNAWEAR II™ wear resistant product
CERAMIC COAL pipe elbows delivered in one week, including:
10" 2- and 3-D Bends
11" 2- and 3-D Bends
12" 2-D Bends
14" 2-D Bends
DYNAWEAR coal pipe orifices:
Features:

High-density alumina ceramic tiles providewear surface protection.
Outside steel ring ensures properdiameter geometry.
Benefits

Double the wear life, compared to cast ironor Ni-hard orifices.
Longer life reduces cost of ownership.
Individual to full-set tiles can be replacedwithout requiring new outer steel ring.
Ensure inside diameter is maintained forproper system pressure.
II. DISTRIBUTORS AND RIFFLE ELEMENTS
Cast ductile iron
Fabricated steel
DYNAWEAR II lined
Replaceable splitter liner assembly** Riffle Elements:
Normal cut - standard offering
Course cut - best for units with marginal air flow
III. COAL NOZZLES AND NOZZLE TIPS

Major components of the compartment assembly include the stationary Coal Nozzle and tilting Nozzle Tip. Coal Nozzle Tips along with the other windbox nozzle tips tilt up or down, directing air and fuel within the furnace, controlling fireball elevation. This aids in operators controllingheat rate.
Cast ductile designed to meet NFPA 85 code for elongation
Ceramic lined nozzles - DYNAWEAR coal nozzle upgrade
QUICK-POINT™ coal nozzle positioning device
Alstom's new QUICK-POINT positioning device provides customers with an alternative method that allows the coal nozzle and tip to be easily raised and secured from the rear of the windbox with conventional tools.
AEROTIP™ nozzle tip - aerodynamic tip designed to promote better air/coal distribution
P2 nozzle tip - incorporates the features of Alstom's flame attachment, wide range and AEROTIP coal nozzle tip
FASTIP one-piece format - integrated coal nozzle tip, one piece design, replacement time is significantly reduced
Selecting a Coal Nozzle Tip:
Resistance to high temperature of furnace flames

Material selection is key

Resistance to coal erosion

Consider hardfacing options

Prevent air/coal leakage inside the nozzle compartment

Monitor wear rates, deformation problems, broken welds
Hardfacing Options For Coal Nozzle Tips:
Features
Hardfacing of splitter plate leading edge is standard
Other options:

Splitter plate surfaces
Top and bottom inner coal shroud plates
Inner coal shroud side plates with corners

Hardfacing thickness available in single(~1/8") and double pass (~1/4")
Available for all coal nozzle tips
Available Materials

Conforma Clad®
Stoody 101 HC

Hardfacing delivers up to 2X the life

IV. DISCHARGE VALVES
Discharge Valves – when properly installed – provide a level of safety and allow mill service to be performed without major disruptions to furnace operations.
Discharge Valves are used to isolate the pulverizer from the furnace. Older power plant fuel delivery systems may not have Discharge Valves in place. However, due to safety concerns, they are now a required part of the design in newer plants per NFPA Code.
The NFPA Code 2-5.1.2.1 requires the use of two valves per burner line — a barrier or dust tight valve at the pulverizer end, and a dust tight valve at the furnace end. Discharge valves must be fitted as close to the pulverizer and furnace portals as possible.
V. REBUILD SERVICES
Save up to 50% versus purchasing new. Rebuild services for:
Burner slide gates rebuilds
Riffle housing repairs
Coal compartment assembly rebuilds
Fuel elbow repairs
RSFC burner rebuilds
VI. MATERIAL UPGRADES
DYNAWEAR™ products
DYNAWEAR II™ products
DYNAWEAR III™ products
VII. RELATED FUEL DELIVERY SYSTEMS AND PRODUCTS
Complete fiber optic assembly with scanner head assembly
Spectrometer head assembly
EXACTA™ flame scanner
Dampers
Air damper bearing assembly
Air nozzle tips
Oil nozzle tips
Direct drive for tilt assembly

You have successfully added from to your part list.
---