Pulverizer Gearbox Rebuild Programs
Service Detail from GE & Alstom Power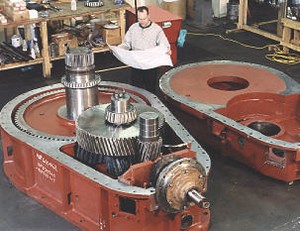 Pulverizer Gearbox Rebuild Programs combine Alstom's coal pulverization experience, a network of Regional Service Centers and supply partners, and proven rebuild processes to deliver best-in-class service.
Alstom can rebuild gearboxes at one of our facilities or supply all the necessary components such as bearings, gears and shafts for on-site rebuilding. Rebuild Programs are available for all removable gearboxes including:
triple reduction
roller bearing
bushing and pancake styles
...as used on Alstom pulverizers and MPS and EL-type mills.
On-Site Rebuilds
Alstom offers pre-assembled gearbox shafts and upgraded bearing seal arrangements for our customers' convenience.
Upgrades
Customers can make component upgrades, such as bearing and seal modifications, a part of the rebuild.
Rebuild Overview
Disassemble completely
Clean and dimensionally inspect all components
Flush and examine all lubrication systems
Replace worn and damaged parts such as gears, bearings, shafts, and seals
Repair components and parts
Reassemble to strict procedures and tolerances with all settings and adjustments made to engineering specifications
Perform "No-Load" spin test
Evaluate and document gearbox condition and rebuild
R3 Rotation ProgramsAlstom offers its R3 Rotation Program when a number of gearboxes require rebuilding over a period of time. This program is a systematic method for rebuilding equipment and returning it to service.
Rebuild – The gearbox is rebuilt.
Restock – Once rebuilt the gearbox is placed in the customer's exclusive stock at an Alstom facility.
Replace – The gearbox is returned to the customer to replace a similar gearbox requiring rebuilding and the cycle is continued.
Other Rebuild Services
Alstom can rebuild the worm shaft and worm gear assembly in lieu of a complete pulverizer gearbox rebuild. In addition to rebuilding pulverizer gearboxes, Alstom can rebuild any gearbox in the power plant including those for:
conveyor belts
cooling towers
air heaters
rail car unloaders
...to name a few.
Powering Your Plant Performance
Pulverizer Gearbox Rebuild Programs are another example of the Alstom commitment to provide products and services that extend equipment life cycle, improve availability and decrease the Total Cost of Ownership.
---