Pulverizer eTool Mill Monitoring System
Product Announcement from GE & Alstom Power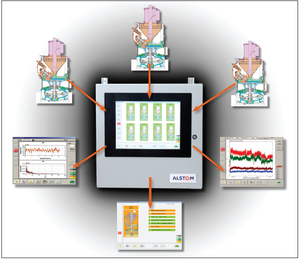 Alstom's Pulverizer eTool™ Mill Monitoring System can alert the operator of irregularities in mill operation comparing historical data from the plant control system to real time data from multiple instruments attached to the mill. All of this data is monitored 24/7 to improve operating performance and warn of potential component failures within the mill.
Customer Benefits
Improves safety
24 / 7 Monitoring of pulverizer conditions
Reduces incidents of catastrophic failure
More effective preventative maintenance
More effective outage planning
Intuitive User Interface
User Interface Features Pulverizer eTool™ Mill Monitoring System provides the following displays:
Snapshot of pulverizer operation
Trends view
History view
Rough operation
Probable cause for rough operation (eg. tramp iron, spring failure)
The information displayed includes pulverizer health, alert logs, input values and graphical views of both real time and historical data.The user interface panel can be local to the mill bay or in a remote location based on customer preference.
Key Features
Detects equipment problems at an early stage
Monitors the degradation of bearings
Adjusts to changing set points
Verifies journal spring preload and journal to journal spring balance
Expandable platform allows for additional sensors to be added
---