RB,RS, RPS, RP & HP Pulverizer Upgrades & Services
Product Announcement from GE & Alstom Power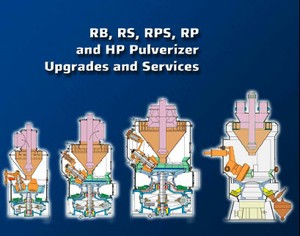 Alstom Family of Pulverizers
The "RB" indicates a steep-sided bowl type of pulverizer that operates under a negative pressure and uses an exhauster fan.
The "RS" indicates a shallow-bowl pulverizer that operates under a negative pressure on a balanced draft furnace. This type also uses an exhauster fan.
The "RPS" indicates a shallow-bowl pulverizer that operates under a slightly positive pressure and was originally associated with pressurized furnaces.
The "RP" indicates a shallow-bowl type pulverizer that operates under a positive pressure. Early systems were associated with either a pressurized or balanced draft furnace. Today few, if any, pressurized coal-fired furnaces are produced. These pulverizers utilize a primary air fan.
The "HP" pulverizer was developed in the mid-1980s. This pulverizer incorporates design changes to extend grinding element life and reduce replacement part costs, maintenance costs and down time. The HP pulverizer design incorporates a vane wheel, an improved horizontal scraper assembly, a tall top classifier for improved classification and a planetary gear drive assembly.
Grinding Rolls and Grinding Segments
Alstom offers a variety of options for replacement grinding rolls and grinding roll surfaces. Whether you choose a complete grinding roll replacement or elect resurfacing there are several wear-resistant options that are designed to extend the wear life of the grinding roll. The results include better fineness, decreased spillage, lowering pulverizer amps and wear on the classifier components.
Benefits
Improved performance
Improved efficiency
Reduced O&M costs
Reduced frequency of roll-to-ring adjustments (eccentrics)
The Xwin® grinding roll demonstrates a considerable improvement in wear life, better fineness, decreased spillage, lower pulverizer amps and reduced wear on the classifier components. The overall benefits are improved performance, improved efficiency and reduced operating and maintenance costs.
FLOW-PRO™ Vane Wheel
The new FLOW-PRO™ Vane Wheel incorporates a resized deflector along with high-grade liner materials for the deflector, vane and wing tips. The CFM and the force and velocity analysis illustrate more uniform flow velocities that substantially reduces localized wear.
Alstom can customize vane segments to suit our customer's needs for both complete FLOW-PRO™ Vane Wheels or replacement parts for an existing vane wheel assembly. Since Alstom designed and built your pulverizers there is no second-guessing as to what parts will fit and work.
Features
Deflector liners are located down in the clean air region for reduced wear
360 degree flow path for even flow distribution to the classifier
Promotes reduced velocities for reduced down stream wear
Coal flow patterns are kept off the mill body virtually eliminating body wear
The flow control gap between the rotation and stationary components is out of the erosion zone
Wingtips retained for efficient air velocity and spillage control
The small size and steep angle of the deflector liners do not provide any coal hide out areas
A selection of wear materials and vane wheel attachment methods are available
Benefits
Increased pulverizer availability
Reduced maintenance costs
Exhauster Fan Bearing Housing Cooling System
Exhauster fan bearings typically operate in an oil bath condition without the aid of oil filtration or cooling. These bearings are exposed to extreme duty conditions especially as the exhauster fan components begin to wear. The life of the bearings is highly dependent on the temperature at which they are operated and the condition of the lubricating oil in the bearing housing. Alstom offers a bearing housing cooling system retrofit for your exhauster to help increase the life of exhauster fan bearings.
Features
110 VAC motor
Circulating pump
Heat exchanger
Connection tubing
Lockable ball valves
Mounting base plate
Benefits
Bearings operate at lower temperatures
Bearing lubrication remains cleaner between outages
Down time due to bearing failures is reduced
Pulverizer Gearbox Services
Alstom offers:
Off-site gearbox rebuilds
Pre-assembled gearbox shafts
Upgraded bearing seal arrangements
Alstom can also supply all the necessary components such as bearings, gears and shafts required for you to rebuild your own gearboxes. Whatever your gearbox requirements are, whether it is a full gearbox rebuild offsite or supplying components for your gearbox rebuild on-site, Alstom can fulfill your needs.
Worm Shaft / Worm Gear Assembly Upgrades
Your pulverizer worm gear can be sent to an Alstom Regional Service Center for rebuilding under controlled conditions using proven processes and procedures.
Features
OEM inspection and assembly procedures are used
All work is performed to the latest Alstom engineering specifications, including the latest parts design improvements, inspection and quality procedures
Quality Alstom parts in stock for timely rebuilds
One-year new equipment warranty
Optional wear material, sealing system upgrades are available
Pre-Assembled Components
Alstom can deliver complete subassemblies ready for immediate installation. This will reduce your down time and help to ensure accurate fit up of components.
Examples include:
Main shaft assemblies
Worm shaft assemblies
Bowl and bowl hub assemblies with grinding segments and vane wheel segments installed
Journal assemblies with grinding rolls and wear liners installed
Separator tops with classifiers and cone assemblies
Benefits of Pre-Assembled Gearbox Shafts
A pre-assembled shaft reduces gearbox overhaul time by as much as 50%. When you order fully assembled shafts they are built specifically for your pulverizer size and eliminate component-by-component assembly at your site. Special jigs and fixtures are no longer required to assemble components nor is an oil bath for bearing assembly.
EZ ACCESS™ Pulverizer Access Doors
Alstom can supply additional access doors for RP, RPS, RS and HP pulverizers.
Features / Benefits
Provides easy entry and exit for pulverizer maintenance
When combined with the FLOW–PRO™ Vane Wheel Assembly, this door provides effortless access to the above bowl area
Easy to install
Hinged for safe and quick entry
Meets NFPA code requirements
Available for all Alstom pulverizer sizes
EZ Access™ Pulverizer Access Doors can be supplied for the following locations on your pulverizer:
Millsides
Converter heads
Separator bodies
Exhausters
Horizontal Pivot Scraper Upgrade
Alstom's horizontal pivot scraper assembly is an improvement over other pyrite scraper designs because of enhanced operation and service life. It is easier and safer to install and maintain, and can be installed as a replacement with little or no rework of existing parts.
Traditional scraper assemblies use vertical mounted bushings that tend to wear and allow the scraper to droop and wear directly on floor liner. Alstom's design moves the pivot from the floor area to a horizontal position above the mill bottom.
The improved assembly support allows the scraper to do a better job clearing debris from the mill bottom. The torsion spring provides enough resistance to move debris from the mill bottom, but also allows the arm to fold back over larger immovable objects such that neither the assembly nor the rest of the mill are damaged. The new horizontal scraper design eliminates the task of removing the entire assembly as units from the mill to replace wear parts.
The original scraper design had an assembly weight of about 150 pounds; the new design allows individual components weighing about 30 pounds to be replaced. This means quicker, safer servicing of the scraper assembly.
Split Bearing Race Retainer
Alstom's split bearing race retainer can be installed without costly bowl hub removal. It is supplied in two halves that are clamped around the main vertical shaft. Two trim drive brackets are supplied with the split-bearing retainer and are located below the bowl hub to prevent the split-bearing retainer from moving upward. The inner race retainer prevents the inner race from creeping up the main shaft. The split bearing retainer also functions as a wear sleeve for the oil seal. The oil seal no longer runs against the main vertical shaft eliminating any wear on the main vertical shaft that could lead to costly down time for shaft replacement or repair.
---