Rebuild/Repair Services for Power Plant Equipment
Service Detail from GE & Alstom Power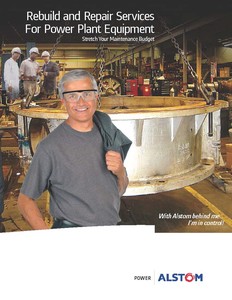 Stretch your maintenance Budget
Alstom's rebuild/repair services include component inspections and maintenance, replacement of worn parts and design upgrades. These offerings, which include extended warrantees, can reduce inventory costs by 25-35% and result in longer lasting products that save power producers money.
R3 Component Rotation Programs
Alstom offers customers a systematic method for rebuilding boiler related equipment and returning this equipment to service. Alstom's Regional Service Centers are the focus of this program combining our extensive experience, inventory, rebuild portfolio and proven processes to provide a unique service.
The R3 program is based on Rebuilding, Restocking and Replacing Components.
Rebuild
Complete disassembly and inspection of a component. Worn out parts are replaced and components repaired. The components are rebuilt to strict procedures and tolerances. Upgrades to components can be included.
Restock
Once a rebuild is completed, the component is placed in the customer's exclusive stock inventory at the Regional Service Center nearest the plant.
Replace
Rebuilt components are returned to a customer when needed to replace as similar component requiring service. The replaced component is sent back to the Service Center.
Advantages:
All work is done in a controlled environment using the latest technology
All work is done to engineering specifications
R3 Component Rotation Programs are available to fit your outage schedule
Extensive parts inventory to support rebuilds/repairs
OEM inspection and assembly procedures are used
Component upgrades available
Benefits:
Reduce inventory costs 24-35%
Shorter lead times
All work backed by Alstom's engineering experience, quality and reliability
---