Recoverey Boiler Vent System
Service Detail from GE & Alstom Power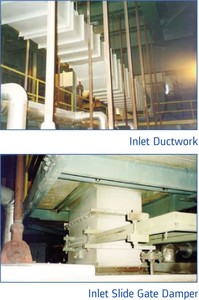 As with any boiler outage, it is necessary to operate your Induced Draft (ID) or Forced Draft (FD) Fan during the water wash of the boiler and therefore you are unable to start your scheduled outage work to this equipment until the water wash is completed. This vent system will give you the opportunity to begin the scheduled maintenance work to the ID and/or FD Fan and/or precipitator in conjunction with the water wash.
In most cases this would be two or three shifts. Installation of the Boiler Vent System will offer your mill the following benefits and financial savings.
Reduces the demand on the plant air system
Prevents water damage and deposit problems at the Precipitator.
Earlier access to the ID, FD Fan and Precipitator to perform scheduled maintenance.
Boiler access and egress will reduce the number of air movers at entry point.
During the operation of the Boiler Vent System operation, the air constantly changes to allow for a better working environment inside the boiler.
95% of the Boiler Vent System can be installed while the Boiler is on-line.
One of the referenced customers has reduced precipitator maintenance by 75%.
---