Upgrades for Boilers Using Stock® Feeders
Product Announcement from GE & Alstom Power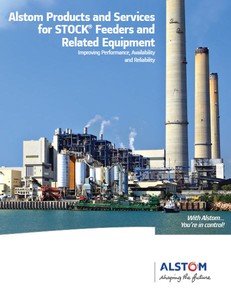 Over 2000 replacement parts for STOCK® coal feeders
As the alternative OEM for STOCK Feeder parts, the Alstom/Merrick team is well positioned to support your need to improve performance, availability, and reliability as well as safety.
Any of the parts described below can be supplied individually, as part of a kit, or included in an Inventory Management Program.
Improving performance, availability and reliability of STOCK feeders
1. MAIN DRIVE UPGRADE SYSTEMS
The Main Drive and Cleanout Drive Upgrade Systems are economical replacements for the outdated eddy current clutch/torque limiter clutch and motor system, and the leaky gearboxes of the OEM's design. They improve the reliability and performance of the feeder, as well as correct an inherent "designed-in" oil leak problem that can pose a safety risk.
These systems were designed to be integrated, thus allowing you to keep the majority of your existing inventory of spare parts. The variable frequency drive (VFD) allows for increases in capacity at no additional cost by a simple programming change.
The Main Drive Upgrade Systems components:
Direct drive Sumitomo reducer with adapter
A/C inverter duty motor
Variable Frequency Drive (VFD) for control of motor speed
Speed encoder
Features:
Variable speed motor replaces main drive reducer
Includes new variable speed drive
Reuses existing parts when possible
The Cleanout Drive Upgrade Systems components:
Direct drive Sumitomo reducer with adapter
A/C constant speed motor
Electronic shear pin relay
2. Cleanout Drive Upgrade
The Cleanout Drive Upgrade includes an electronic shear pin relay with a NO/NC output contact. The electronic shear pin is a DIN Rail mounted relay, which is easily calibrated for the motor current overload.
The instant that a current overload condition occurs, the shear pin will trip, which will stop the drag chain drive motor. It will also close the auxiliary contact, which can be connected to the Boiler Control System to let the operators know that the drag chain has stopped due to an overload.
The existing system typically does not provide this type of electronic failure indication. The electronic shear pin will mount into the existing cabinet next to the drag chain motor starter and is wired between the motor starter and the cleanout gearbox upgrade.
The shear pin can be easily reset by pushing the reset button, once the condition has been cleared.
The Cleanout Drive Upgrade Systems components:
Direct drive Sumitomo reducer with adapter
A/C constant speed motor
Electronic shear pin relay
Features
Constant speed motor replaces cleanout drive – either LH or RH
Interfaces with all existing internal components
Includes Electronic shear pin relay
3. GENETIX Touch Screen Controller
The GENETIX Touch Screen Controller is the world's first touch screen process controller specifically designed for weighing applications. It replaces most conventional gravimetric relay control systems, and will ensure that the coal feeding process is consistently accurate, reliable and repeatable.
The design utilizes the most advanced technology available in the industry. It provides for easy integration into many classic boiler control systems or the more advanced DCS. The graphic LCD touch-screen display enables user-friendly operation, presents and communicates data in an organized and efficient manner.
The GENETIX Process Controller can be configured for virtually all feeding requirements including:
Gravimetric control for feeder systems
Static weighing and belt scale integrators
Continuous or batching loss-in-weight feeders
Continuous or batching belt feeders
Key Features:
User friendly interface:

On screen help
Built in simulator
Function key validation

Integrated Electronics Package
Sensor Monitoring and Graphic Trending
Data Highway Capable
Critical Component Redundancy
4. Weigh Suspension System Upgrade for Belt Feeders
Merrick's Weigh Suspension System upgrade with load cell and adjustable idler bracket, which is used in conjunction with a Merrick or STOCK microprocessor, provides an accurate, calibrated fuel weight/rate to the boiler or coal handling system.
The adjustable idler bracket uses the existing weigh roller, and it allows the roller to be removed easily without the use of tools.
Advantages
Electronic load cell replaces mechanical system and reduces maintenance
Improves accuracy for a more repeatable signal
Simple design
Microprocessor adjusts the speed of the belt based on load of material on belt
Benefits to User
Reduces maintenance costs
Improves efficiency with tighter control
Improves reliability
5. Adjustable Leveling Bar
This easy-to-install Adjustable Leveling Bar Upgrade replaces old mechanical leveling bar systems with a turnbuckle assembly. All internal leveling components are retained as well as the original level indicator. The simple design requires no field welding and installs in less than one hour as compared to the OEM design which requires welding and takes eight to ten hours to install.
Advantages
Uses existing internal leveling bar components
Fast installation
No field welding
Simple and reliable
Benefits to User
Low cost of installation
Easy to install
6. Roller Belt Support Assembly
Alstom's Roller Belt Support Assembly is an upgrade to the slider-bed belt support on selected Stock coal feeders. The Alstom product is designed to provide years of trouble-free service.
In most cases the original slider-bed belt support pan requires regular replacement. This pan is known to develop wear holes that have the potential to damage the feeder belt itself.
Alstom's roller system is designed for less friction and, thus, less wear against the feeder belt. Not only is damage to the feeder belt eliminated, less horsepower is required to move the feeder belt.
Additionally, Alstom's roller belt support assembly allows the coal feeder to calibrate more quickly. No physical or hardware changes are required to install Alstom's roller belt support assembly. Alstom's drop-in idler unit uses five (5) special rollers with bearings located within the assembly's support frame. These bearings are permanently sealed. The rollers can be replaced without disassembling the tail end of the coal feeder and removal of the entire belt. Once the support frame is installed, it should never need replacement.
The roller belt support assembly is a design used by Merrick Industries, Inc. for more than 50 years on all of its belt feeders.
Advantages
Eliminates wear to the coal feeder belt
Less horsepower required to move the feeder belt
Enables faster calibration of coal feeder
Rollers can be replaced without disassembly of the tail end of the coal feeder and removal of the belt
Benefits to User
Improves reliability
Reduces operational cost
Improves availability
7. Replacement Parts for STOCK Coal Feeders
Over 2000 replacement parts for STOCK coal feeders
Advantages
High quality
OEM warranty
Custom outage kits available
Incorporate into Inventory Management Programs
Benefits to User
A low risk, high value supplier of replacement parts for STOCK feeder equipment
STOCK is a registered trademark of the Stock-Schenck Process Group.
Alstom Power Inc. is not an authorized distributer or representative of STOCK or other listed companies. The technical and other data contained in this document is provided for information only. Alstom makes no representation, warranty or guarantee (whether expressed or implied) as to the accuracy or completeness of such data or any projected performance criteria. Alstom reserves the right to review or change this data at any time without further notice.
---