Product Announcement from Alstrom Energy Group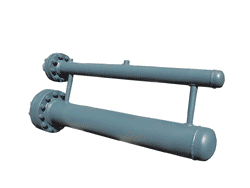 Alstrom Fuel Oil Heaters serve two major purposes: to make fuel oil "pumpable" and to provide the requested atomization in the burner. Fuel oil has a high viscosity and when stored at the ambient temperature cannot be pumped. The first step is to preheat the fuel oil inside the storage tank, reduce its viscosity , and then dispense it by means of pump suction. "VSF" and "ATL" tank suction heaters are used in underground storage tanks, while "SSF" heaters apply to aboveground tanks. The oil leaving the tank is heated to 110-120°F. Before fuel oil flows to the burner, it receives additional heating. The required fuel oil temperature depends upon the burner design and the grade of fuel oil. Usually, burner manufacturers specify the temperature best suited for their burners. Fuel oil No. 6 is heated to 160°F in horizontal rotary burners, 220°F in steam atomizing burners, and 250°F in mechanical atomizing burners. Alstrom "HST," "ST," "HDT," and "DT" fuel oil heaters are designed for this purpose. For the majority of applications, the electric heater is used for startup. Once the boiler provides sufficient steam pressure or water temperature, the electric heater assumes a standby function. Combination Steam-Electric Fuel Oil Heater "ASE" combines the steam tube bundle and the electrical sheath into one unit, thereby creating a simple, compact, labor-saving package. The properly designed fuel oil preheater provides the necessary fuel oil atomization, resulting in complete combustion and efficient, trouble-free burner maintenance.
You have successfully added from to your part list.
---