Product Announcement from Alstrom Energy Group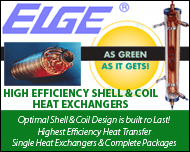 HIGH PERFORMANCE: the unique coil arrangement has a large heat transfer area and high heat transfer coefficients.
COMPACT AND LIGHTWEIGHT: closely packed tubes makes our shell and coil exchangers compact and lightweight. Small footprint makes it easy to install where space is limited and hard to access.
LOW MAINTENANCE COSTS: corrugated tube design produces a high turbulent flow, which reduces deposit build-up and fouling. This means longer operating cycles between scheduled cleaning intervals.
HIGHER TEMPERATURE DIFFERENTIALS: helical design allows for higher temperatures and extreme temperature differentials without high stress levels and costly expansion joints.
You have successfully added from to your part list.
You need Flash player 8+ and JavaScript enabled to view the High Efficiency Shell & Coil Heat Exchangers video.
Get the Latest Flash player.
---