Newly Designed FM Series of Foot Switches
Product Announcement from Altech Corp.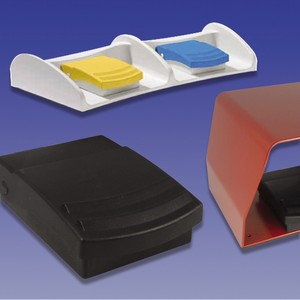 The FM series foot switches are ideal for light or medium duty applications and especially medical applications. The compact, sturdy but small, ABS housing is designed to meet all the different contact and switch insert configurations.
This series has many features, such as maintained and two stage momentary contacts, two different colors, and two protection levels. It also offers a variety of flexibility and alternatives already in the standard versions.
The wide range of options include:
Housing: Black Polyamide and pedal cover
Protection Level: IP 43 and IP 65
Switch Insert: Snap action microswitch, UL/CSA approved
Electrical Rating: 5A/125-250V AC
Contact Types: Momentary, maintained, or two stage momentary
Circuit: SPDT-SB, DPDT-SB, 2x SPDT-SB
Strain Relief: PP Cable Gland
With or Without Cable
Cable: Multi conductor, PVC, SJT, 2 m (6 ft. - 6 in.)
Temperature Range: -20°C up to +80°C (-4°F up to +176°F)
The standard and optional features together provide various application possibilities:
Foot switches are typically used when hands-free operation is required or when the hands are needed to perform a separate task while the machine or device must be started or stopped, or the machine requires manipulation in other ways. Application examples would be:
Conveyor belt in supermarket
Sewing machine in textile factory
Control of dentistry tools
Operation of logical or digital signals
Options

Protection Level: up to IP68
Switch Insert:

Gold plated contacts for low current applications
Electrical Rating: 0.1A/125V AC
Silver-Nickel plated contacts
Electrical Rating: 10.1A, (1/4HP)/125-250V AC

Strain Relief:

Standard straight-through (IP 68)
Bend protection (IP 68)
Trumpet Pull/Bend protection (IP 68)

Cable:

Shielded cable
Per customer specifications

Connectors:

Per customer specifications

IEC 60601-1 certified
Metal Top Guard or Heavy Metal Base
---