Develop Cost-sensitive FPGA Applications
Product Announcement from Altera Corporation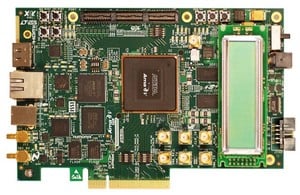 Arria V GX Starter Kit
The Altera® Arria® V GX Starter Kit provides a complete design environment that includes all the hardware and software you need to develop cost-sensitive FPGA applications immediately. The development kit is RoHS compliant. The development kit features the following:
Arria V GX FPGA-360KLE, F1517 package, 24X6.6G XCVRs, C4 speed grade
One I/O expansion slot-one high-speed mezzanine card (HSMC) connector
16 MB of SDRAM memory
High-definition multimedia interface (HDMI) and serial digital interface (SDI) connections
SMAs
The Arria V GX Starter Kit features the following:
Arria V GX FPGA development board

FPGA: Arria V GX 5AGXFB3H4F35C4NES

System controller: MAX® V 5M2210ZF256C4N

Power monitor GUI
Single analog-to-digital converter (ADC), eight channels
Non-isolated power rail
Fast passive parallel (FPP) x16 mode through parallel flash loader (PFL)
Control and status registers

Embedded USB-BlasterTM II: MAX II EPM570GM100C4N
HDMI 1.3 TX

x4 XCVR, 3.4 Gbps (max by spec) and 340 MHz TX clock (by spec)
HDMI TX connector
TI HDMI level shifter SN75DP130
Level shift XCVR PCML 1.5V <-> TMDS level
DDC and HPD <-> HDMI compliant level
Data channel up to 5.4 Gbps; HDMI 1.3 only needs a maximum of 3.4 Gbps
Clock channel up to 340 MHz; enough to support 3.4 Gbps data rate
HDMI specification: clock period = 10x of UI
Requires 100 MHz clock input at CLKIN to generate the TX clk and core logic

SDI 3G

x1 XCVR TX/RX loopback
x2 SMB connectors and cable (cable not included in kit)
Up to 2.97 Gbps
Uses National Semiconductor driver/receiver LMH0384SQ/LMH0303SQx
Requires 148.5 MHz and 148.35 MHz at XCVR refclk to support US and EU standard respectively
Use VCXO to fine tune and lock to the recovered CDR frequency
Requires 125 MHz CLKIN for core logic

HSMC

x8 XCVR up to 6.375 Gbps
Not complied to PCI Express® (PCIe®) HIP pin assignment
x4 CMOS
x17 differential using dedicated TX/RX channel
x2 low-voltage differential signalling (LVDS) clock in
x2 differential clock out
I2C
JTAG
Minimum current support
2A @ 3.3V
1A @ 12V
Dedicated clock domain from Si 5338 clock generator for xcvr refclk
HSMC loopback with BTS GUI

SMA

7x XCVR TX/RX channel
1x LVDS clock input

Dedicated clock domain from Si 5338 clock generator for xcvr refclk
DDR3 SDRAM x32

Micron MT41J64M16JT-15E DDR3 SDRAM 8MX16X8
Two devices: 2 x16 width = x32
BTS DDR3 SDRAM GUI using Uniphy and high performance (HP) controller II

SSRAM

1024k x18, 18 Mb ISSI IS61VPS102418A
Shared address or data with flash

User IO

LCD character
x4 DIP switch
x3 PB
x4 LED

Configuration
FPP x16 mode
Dual flash 512Mbit Numonyx PC28F512P30BF (52 MHz FMAX)
JTAG header
Embedded USB Blaster II

Cypress microcontroller CY7C68013A as USB PHY 2.0
MAX II CPLD
Ethernet
10/100/1000 Base-T
RJ-45 connector, on-board LED for link status
Marvell Ethernet PHY 88E1111
Requires 100 MHz and 125 MHz clock from CLKIN
You have successfully added from to your part list.
---