Product Announcement from Ambrell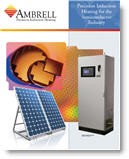 Summary: Resistance heating can lead to uneven crystal quality, higher energy costs, and reduced production efficiency. Learn how induction heating can address these challenges.
Full Article: The following challenges often arise with resistance heating. Let's review them and discuss how induction can address them:
Drawback 1. Lowered crystal quality
Solution: Induction focuses energy directly into the crucible and load. Your process experiences precise and uniform delivery of heat, lifting crystal quality.

Drawback 2. Higher energy costs
Solution: Induction heating delivers energy directly to your load; your dollars are not wasted on resistive and convection losses found with resistance furnaces. EKOHEAT systems provide precise control over your crystal heating.

Drawback 3. Reduced production efficiency
Solution: Induction delivers just the energy you need, where you need it. This level of control lowers your defect rates and boosts your productivity

Drawback 4. Increased downtime
Solution: Ambrell's EKOHEAT technology has been designed for reliable operation, convenient manual and serial control, and a reduced component-count to help maximize your uptime! Our heating technology is easily integrated into your process and can start delivering more precise temperature control and elevated quality from day one!
Drawback 5. Scrap losses
Solution: EKOHEAT recovers quickly to full power following any brief power outage. No need to scrap the boule.
Innovation Through Induction
Induction technology is a fast, clean, flameless method for heating electrically conductive materials. It provides a highly controlled environment for crystal growth by developing the required heat electromagnetically. Alternating current flows through an induction coil which surrounds a crucible. Eddy currents flow within and against the crucible's resistivity producing heat. While the coil itself never becomes hot, the mass is heated with unparalleled uniformity.
Ambrell is the Answer.
Advanced induction heating from Ambrell can make your crystal growing and wafer manufacturing process more reliable, precise and cost effective. Our EKOHEAT products are specifically designed for semiconductor applications; they heat the crucible or wafer platen more uniformly and efficiently than resistance heating -our non-contact, electromagnetic heating technology decreases energy used, enhances productivity and delivers a superior quality semiconductor product. With Ambrell, the real end product is greater profit potential.
Check out the six-page brochure on Crystal Growing with Ambrell to learn more!
You have successfully added from to your part list.
---