Induction Heating for Solar Cell Assembly
Product Announcement from Ambrell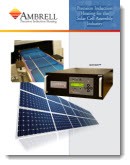 Learn how induction heating from Ambrell can boost productivity, reduce energy costs and increase product quality for solar cell assembly stringing and tabbing applications.
Challenge
Increasing productivity, reducing energy costs and ensuring consistent, high quality solder joints are key objectives when it comes to solar cell assembly stringing and tabbing applications. After all, producing a high quality product efficiently is the best way to stay ahead of the competition.
Solution
Induction heating from Ambrell delivers precise heating within the string or tab without heating the surrounding solar cell substrates. This results in a higher quality product with reduced energy use and significantly less material damage when compared to other, less precise heating methods.
Additionally, induction can heat solder joints within seconds. This results in higher productivity. And, when you work with Ambrell, an integrated induction heating soldering solution will be designed specifically for your solar cell stringing and tabbing machine.
How do I learn more?
Read our extensive brochure or contact us today. Why wait? The Ambrell team will work with you to ensure you end up producing a superior product at an improved production rate while enjoying reduced energy costs.
---