Clear Plastic Tamper-Evident Seal - Model XPC-2
Product Announcement from American Casting & Manufacturing Corp.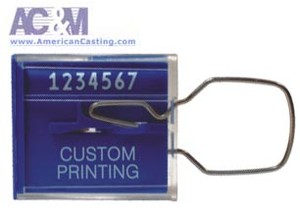 Newly designed and patented padlock seal from American Casting. The model XPC-BC Bar Coded Seal is housed in a tamper-evident clear acrylic jacket for security and long term use. Tamper resistant hasp for added security.
The XPC-BC's features include:
Clear acrylic jacket reveals tampering.
Weather resistant for long term exposure.
Tamper resistant hasps increase seal security.
One piece design - protects printing and numbers.
Color coding.
Heat stamp custom printing of company name / logo.
Hasp can be scored for removal by hand, or un-scored for removal with cutters.
Printing:
Heat Stamped with company name / logo.
2 lines available, 8 spaces per line.
Consecutive numbering up to 7 digits.
Packaging :
1000 pieces per carton.
5000 pieces per case.
Optional pack: 50 or 100 seals per bundle in consecutive number order
Materials:
Clear acrylic jacket - tamper evident and protective.
Galvanized spring wire (0.047" diameter) or stainless steel spring wire (0.047" diameter)
Dimensions:
1.35"W x 1.5"L x 0.25"D (34.93mm W x 38.09mm H x 6.35mm D)
Please contact us with a request for a quote if you require custom printing.
---