Need a Military Diode Array ?
Product Announcement from American Microsemiconductor, Inc.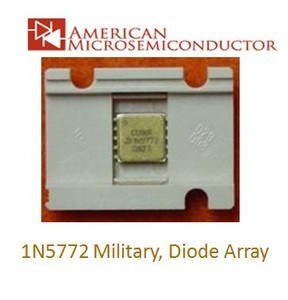 1N5772 Diode Array (Military) from AMS
The 1N5772 Diode Array from American Microsemiconductor Inc. (AMS) comes in a 10 pin ceramic flat pack and offers high breakdown voltage, Low forward voltage drop, fast switching and is intended for high reliability and military applications. ( See AMS Data Sheet)
AMS supplies the same diode array configuration, 1N5772, in a variety of packages for Military, Industrial, and commercial applications.
AMS supplies many diode arrays, off the shelf, and we also configure diode arrays in any manner and in any package.
Quick Links:
Did you Know ?
American Microsemiconductor Inc. (AMS) is Certified AS9100: Rev C and ISO9001:2008
AMS has been supplying semiconductor for over 45 years
AMS has the largest semiconductor stock; over 170,000 different line items in stock
AMS has over 100 years of semiconductor sales experience
AMS sells semiconductors worldwide
AMS designs, re-engineers, modifies, manufactures, and tests all types of semiconductors
We offer equivalents and replacements for discontinued/obsolete Semiconductors
If you have a sample of what you need, we will evaluate your sample
We have a Yahoo Semiconductor ecommerce store. Please visit us at: http://store.americanmicrosemiconductor.com
AMS also has our large inventory online at www.Amazon.com
Both our stores, Yahoo and Amazon, have no minimum Purchase Order
AMS accepts and delivers small manufacturing orders efficiently and on time.
AMS supplies test data, if needed, on all our parts
We do sorting, selection, and matching of semiconductor parameters
Have a requirement, call us at 973-377-9566, Fax us at 973-377-3078, email at sales@americanmicrosemi.com, or visit one of our stores at: http://store.americanmicrosemiconductor.com, or www.Amazon.com
DON'T WASTE YOUR VALUABLE TIME! tell us your requirements
When you think:
Reliable, Certified, Hassle-free,
Efficient, Responsible, Results-Oriented,
Think:
AMERICAN MICROSEMICONDUCTOR INC
HAVE A GREAT DAY!
---