60 Nanosecond High reliability HV rectifier
Product Announcement from American Microsemiconductor, Inc.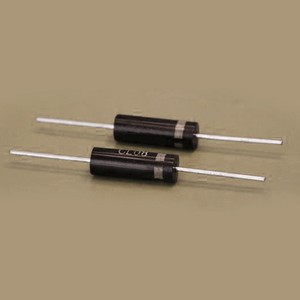 60 Nanosecond HV Rectifier from American Micro Semi
With a Trr of 60 nS the CL08-10T is the fastest high voltage (10 Kilovolts), state of the art rectifier available today. It provides a significant improvement over and above the popular UX-FOB HV rectifier and other discontinued,obsolete, and hard -to-find HV rectifiers. The CL08-10T is rated at 500 mA and can be a replacement for most rectifiers up to 10kV and at a current of 500 mA or less. The CL08-10T is a high reliability epoxy axial HV rectifier which also features a forward voltage drop of 16 Voltsmax at 500 mA and a maximum surge current of 40 Amps. With its superior performance capabilities the CL08-10T is recommended as a replacement for the UX-FOB and other older HV rectifiers requiring similar capabilities and it is recommended for new designs.
Package information:
Axial: Epoxy resin molded
Size: Length;22 mm and diameter: 7.50 mm
Various lead attachments are available
Reliability Testing :
High Temp Reverse Voltage 1000 hours at 1000C
High Temp Storage 1000 hour @1300C
Insulation Test 10 KV
Others: insulation resistance test, Temperature Cycling, High Pressure Test, Lead bend
Other High Voltage products from AMS:
Hermetic seal rectifiers
HV Bridge Rectifiers
HV doublers
HV dual rectifiers : CC , CA,or doublers
Applications:
Night Vision
CRT Circuitry
HV electrostatics
HV A/C
Air Purification systems
Power Supply Systems
Power Supplies
Did you Know ?
American Microsemiconductor Inc. (AMS) is Certified AS9100: Rev C and ISO9001:2008
AMS has been supplying semiconductor for over 45 years
AMS has the largest semiconductor stock; over 170,000 different line items in stock
AMS has over 100 years of semiconductor sales experience
AMS sells semiconductors worldwide
AMS designs, re-engineers, modifies, manufactures, and tests all types of semiconductors
We offer equivalents and replacements for discontinued/obsolete Semiconductors
If you have a sample of what you need, we will evaluate your sample
We have a Yahoo Semiconductor ecommerce store. Please visit us at: http://store.americanmicrosemiconductor.com
AMS also has our large inventory online at www.Amazon.com
Both our stores, Yahoo and Amazon, have no minimum Purchase Order
AMS accepts and delivers small manufacturing orders efficiently and on time.
AMS supplies test data, if needed, on all our parts
We do sorting, selection, and matching of semiconductor parameters
Have a requirement, call us at 973-377-9566, Fax us at 973-377-3078, email at sales@americanmicrosemi.com, or visit one of our stores at: http://store.americanmicrosemiconductor.com, or www.Amazon.com
DON'T WASTE YOUR VALUABLE TIME! tell us your requirements
When you think:
Reliable, Certified, Hassle-free,
Efficient, Responsible, Results-Oriented,
Think:
AMERICAN MICROSEMICONDUCTOR INC
HAVE A GREAT DAY!
.
---