Rectifier Module from American Microsemiconductor
Product Announcement from American Microsemiconductor, Inc.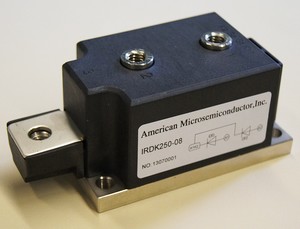 American Microsemiconductor Inc. introduces a fast recovery dual power rectifier module with high surge current capability in a standard international industrial package.
The package isolation is 3000 volts. The rectifier's reverse voltage ranges up to 1700 Volts, and the average forward current is 250 Amps. The dual diode series also feature fast reverse recovery rectifiers and low forward voltage of 1.4 Vmax. The configuations available are: IRDA - Common Anode; IRDK - Common Cathode, and IRDC - Voltage Doubler. These rectifier power modules are RoHS And UL Compliant. They are direct replacements for International Rectifier, Vishay, Eupec, San Rex, Powerex, and others.
Applications include:
General power systems
AC and DC Electric Machinery Control
Welders
Power supplies
Battery Chargers
Motor Control
Did you Know ?
American Microsemiconductor Inc. (AMS) is Certified AS9100 Rev C and ISO9001:2008
AMS has been supplying semiconductor for over 45 years
AMS has the largest semiconductor stock; over 170,000 different line items in stock
AMS has over 100 years of semiconductor sales experience
AMS sells semiconductors worldwide
AMS designs, re-engineers, modifies, manufactures, and tests all types of semiconductors
We offer equivalents and replacements for discontinued/obsolete Semiconductors
If you have a sample of what you need, we will evaluate your sample
We have a Yahoo Semiconductor ecommerce store. Please visit us at: http://store.americanmicrosemiconductor.com
AMS also has our large inventory online at www.Amazon.com
Both our stores, Yahoo and Amazon, have no minimum Purchase Order
AMS accepts and delivers small manufacturing orders efficiently and on time.
AMS supplies test data, if needed, on all our parts
We do sorting, selection, and matching of semiconductor parameters
Have a requirement, call us at 973-377-9566, Fax us at 973-377-3078, email at sales@americanmicrosemi.com, or visit one of our stores at: http://store.americanmicrosemiconductor.com, or www.Amazon.com
DON'T WASTE YOUR VALUABLE TIME!
When you think:
Reliable, Certified, Hassle-free,
Efficient, Responsible, Results-Oriented,
Think:
AMERICAN MICROSEMICONDUCTOR INC
HAVE A GREAT DAY!
---