Variable Capacitance Diode, Varactor, Varicap
Product Announcement from American Microsemiconductor, Inc.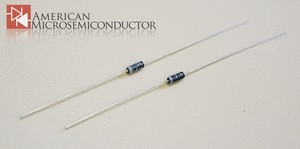 Servicing the Semiconductor industry since 1970 - American Microsemiconductor.
A varicap diode, varactor diode,or tuning diode is a type of diode whose PN junction capacitance can be varied by varying the voltage across that junction.
Varicap diodes (varactor or tuning diodes) are principally used as voltage variable capacitors, with their diode function a secondary option.
Click for full specification and ordering information for Varactor Diodes
1N3182, 1N3488, 1N4388, 1N4815, 1N5139, 1N5140A, 1N5148A, 1N5441A, 1N5454B, 1N5456A 1N5689B, 1N5694, 1N955B,
Specifications of Varactor Diode
Major varactor diode considerations are:
Capacitance value
Reverse voltage
Variation in capacitance with voltage
Maximum reverse working voltage
Leakage current
Key applications
Electronic tuning including satellite and terrestrial TV tuners
DVD recorders
FM radio tuning from car radios to mobile phones
Voltage controlled oscillator (VCO)
Voltage controlled crystal oscillator / temperature controlled crystal oscillator (VCXO/TCXO)
When a reverse voltage is applied to a PN junction of varactor diode, the holes in the p-region are attracted to the anode terminal and electrons in n-region are attracted to the cathode terminal of varactor diode, creating a region where there is little charge of either type(the depletion region). This region, the depletion region, is essentially devoid of carriers and behaves as the dielectric of a capacitor. The P and N regions behave as the Capacitors Plates.
Did you Know ?
American Microsemiconductor Inc. (AMS) is Certified AS9100: Rev C and ISO9001:2008
AMS has been supplying semiconductor for over 45 years
AMS has the largest semiconductor stock; over 170,000 different line items in stock
AMS has over 100 years of semiconductor sales experience
AMS sells semiconductors worldwide
AMS designs, re-engineers, modifies, manufactures, and tests all types of semiconductors
We offer equivalents and replacements for discontinued/obsolete Semiconductors
If you have a sample of what you need, we will evaluate your sample
We have a Yahoo Semiconductor ecommerce store. Please visit us at: http://store.americanmicrosemiconductor.com
AMS also has our large inventory online at www.Amazon.com
Both our stores, Yahoo and Amazon, have no minimum Purchase Order
AMS accepts and delivers small manufacturing orders efficiently and on time.
AMS supplies test data, if needed, on all our parts
We do sorting, selection, and matching of semiconductor parameters
Have a requirement, call us at 973-377-9566, Fax us at 973-377-3078, email at sales@americanmicrosemi.com, or visit one of our stores at: http://store.americanmicrosemiconductor.com, or www.Amazon.com
DON'T WASTE YOUR VALUABLE TIME! tell us your requirements
When you think:
Reliable, Certified, Hassle-free,
Efficient, Responsible, Results-Oriented,
Think:
AMERICAN MICROSEMICONDUCTOR INC
HAVE A GREAT DAY!
---