Product Announcement from American Ring & Tool Co.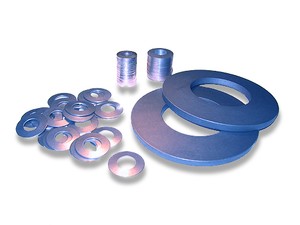 Belleville Disc Springs
The American Ring & Tool standard range of disc springs is intended for exacting applications where long fatigue-life or repeatability of force (load)/deflection characteristics is important. Metric sizes are manufactured in accordance with the requirements of DIN 2093 or DIN 6796.

Materials:
Sizes with a material thickness of less than 1.25 mm (.049 inch) are made from high carbon steel strip SAE 1070-1090, with rounded edges; metric (DIN 2093) sizes with material thickness from 1.25 mm (.049 inch) up to and including 6 mm (.236 inch) are made from chrome vanadium alloy steel conforming to AISI 6150 (50CrV4) and are machined on the inside and outside diameters with all edges rounded. Disc Springs and Belleville washers are also available, by request in 301/302 Stainless Steel, 17-7PH Stainless Steel, 510 Phosphor Bronze, Inconel 718 or Inconel X750, and H13 Tool Steel for extreme high temperature applications.

Applications:
Disc springs and Belleville washers from American Ring & Tool are used in a wide variety of applications, including, but certainly not limited to:

Clutches, limiting and fail-safe brakes, transmissions, torque limiters and torque converters, valves, piping and shock absorbing drilling tools in the oilfield and mining industries, heat exchangers, electrical switchgear and bus bars, computer spindle drives, ball-bearing locating and end-play takeup, valve actuators, tensioning cable support assemblies, stripper assemblies, machine tools (die seating), tooling for turret presses and NC Systems, live-loaded valve packing, pole-line hardware, circuit breakers, structural members, pipe hold-downs and pipe flange fittings, electrical substations, seismic damping devices, small engines, as well as bolting applications ranging from the most basic to more complex requirements involving resiliency to higher temperature and corrosive environments.
American Ring & Tool Co (440) 498-3730
You have successfully added from to your part list.
---