WiGauge™ Wireless Bore Gauge (Gen 1 & 2)
Product Announcement from Ametek Solartron Metrology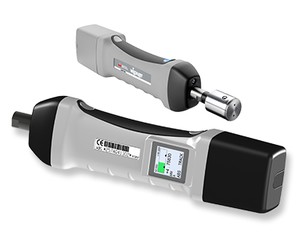 The WiGauge™ Wireless Bore Gauge offers increased efficiency, flexibility and uncompromised accuracy in the palm of your hand. By eliminating the need for cables to download the measurement data, the WiGauge™ Wireless Bore Gauge offers manufacturers greater freedom in workstation design and practice.

This Bluetooth™ Wireless Bore Gauge has a range of at least 15 meters for data transmission and up to 7 WiGauge™ wireless bore gauges can be linked to a single system.

The rugged, high precision WiGauge™ Wireless Bore Gauge from Solartron Metrology is IP65 rated and is compatible with industry standard M6 and M10 gauge head threads. The transducer is linear along its full measuring range, making it easy to set up and adaptable for applications other than bore gauging.

The attached NiMH battery pack delivers up to 10 hours of continuous data transmission and can be removed for offline recharging.
Click Here to see the WiGauge™ Wireless Bore Gauge (Gen 1 & 2) in the Interactive Catalog.
Features
10mm and 6mm fixing threads (as used on most Gauge Heads)
Up to 0.1µm resolution (user selectable)
Up to 15m range, via Class One Bluetooth®
Up to 7 WiGauge™ Wireless Bore Gauges connected to a single receiver
10 hours battery life (based on continuous data transmission)
Fast battery recharge
IP 65 protection
Audio indication of data transmission
Pass/fail range lights
Inductive Charger available
Click Here to see the WiGauge™ Wireless Bore Gauge (Gen 1 & 2) datasheet.
---