Automated Brinell Hardness Tester from Newage
Product Announcement from Ametek Test & Calibration Instruments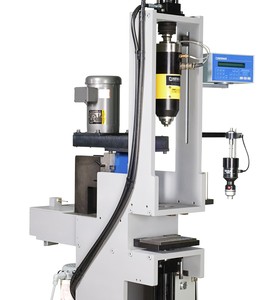 The Newage® 9000N Series makes a Brinell impression in conformance with the standard method for Brinell testing as described in ASTM E-10 and is typically used in in-line or at-line applications according to the customer's testing requirements. The impression depth is measured automatically using the B.O.S.S. to determine the Brinell number as per ASTM E103. This technique offers users greater testing speed and reduced operator influence on test results.Like a Rockwell test, the 9000N Series applies a preload and then a major load. The depth of measurement is calculated on the difference between these loads.Features & BenefitsIncreased Testing EfficiencyThe depth of measurement method means faster testing, more consistent results and less operator influence that traditional optical measurements.Accurate Testing on CastingsCastings with a normal draft angle may be tested with accurate results through special test referencing device.Custom Systems for Exact RequirementsThese systems are often used as a component of an overall Brinell testing solution-engineered, manufactured and installed to your exact testing requirements.Comprehensive Data ManagementThe digital test head can be configured to display the amount and degree of information for your tests- from simple to very comprehensive.
You have successfully added from to your part list.
You need Flash player 8+ and JavaScript enabled to view the Automated Brinell Hardness Tester from Newage video.
Get the Latest Flash player.
---