Product Announcement from Ametek Test & Calibration Instruments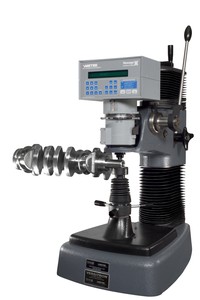 The Versitron has the fastest test cycle of any hardness tester, performing tests in as little as four seconds, even on manually activated machines. Large specimens can be clamped in seconds prior to applying the load without supports or tools and without affecting test results. In addition, the system is extremely user friendly, requiring little operator training and having few service or maintenance requirements.Commonly found test conditions, such as vibration or a dirty test environment, test samples with oily residues, or thin test pieces will sometimes cause test error due to deflection during the load. The Versitron features a unique indenter system that eliminates or substantially reduces those errors. In addition, a clamping shield holds difficult test parts securely to the tester's anvil and helps to protect the indenter area.The Versitron's entire load system is modular and self-contained with a number of specific advantages over older systems. With a single pull of a lever, an operator can perform the entire test cycle, applying both the preload and full load and providing a test result in as few as two seconds without operator influence. Motor-driven systems are started with a push of a button or pedal.Immediately surrounding the Versitron indenter is an indenter shroud whose purpose is to sense the position of the indenter relative to the test surface when the preload has been applied. Should the test specimen deflect under major load, the shroud travels with the test surface to compensate by maintaining the precise reference position with the test surface, so the test results remain accurate. Modular test heads can be easily installed so that testers can be quickly interchanged between regular and superficial ranges or be upgraded by adding new test heads as requirements change. Test heads are available in basic digital and advanced digital versions and are interchangeable with any Versitron frame.Newage Testing Instruments is a unit of AMETEK Test & Calibration Instruments and an established leader in hardness testers and accessories. It offers a comprehensive range of hardness testers for Rockwell, Brinell and Microhardness testing.
You have successfully added from to your part list.
---