LIAC600-MS LI-ION Battery Charger
Product Announcement from Analytic Systems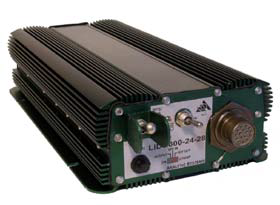 This COTS DC Charger is designed for recharging the SAFT Lithium Ion Battery (LBB) used by the US Armed forces from a 24V DC source such as a HmmWV, and is controlled using industry standard interface circuitry. It can also be used in Bypass Mode as a Stand-Alone DC-DC voltage converter. It is designed to deliver 32.0 VDC at up to 22 amps continuous to recharge the battery. The output changes to 28 VDC at up to 22 amps continuous when operating in Bypass Mode.
The LIDC600-24-28 is designed to be powered from a 24V vehicle source. It features low voltage shutdown circuitry that turns it off during vehicle cranking or if the vehicle battery becomes discharged. The unit is designed to meet MIL461E for both radiated and conducted emissions. It is designed to meet MIL810F for shock and vibration and to withstand submersion in 50cm of water for up to 5 minutes.
The unit can be operated over a temperature range of -40 to +60 degrees Celsius, and with an optional pre-heater, will operate at temperatures down to -55 degrees C.
The unit has indicators to show that it is running, when it is charging, input undervolt, output undervolt and over temperature. These indicators are dark except when the display button is pressed.
Available options include a carrying handle and various Mil-Spec Connectors. We are confident that you will get many years of reliable service from this DC Battery Charger.
Features
Built as a COTS Battery Charger for Military Applications
Military-Grade extrusion ensures a high tolerance for shock and vibration
Ultra-quiet, low EMI operation
Can be left permanently connected
Can function as a DC-DC Converter
Optional Carrying Handle available
Visual indicators for output and charging
Short circuit protection
Inrush Current Limiting with solid state bypass
22-35 VDC wide input range
3 year parts and labour warranty (2 yr. Extension available)
Designed to meet MIL-STD 810F, Method 514-3, Cat-I Proc I for vibration
Built according to the Q-Base Quality System
Military Option
Most of the products manufactured by Analytic Systems can be adapted for military use (Commercial Off The Shelf).
We provide four different levels of ruggedization; most often, a product in military use will use the extra-wide temperature range components to allow operation to -55 degrees Celsius.
The printed circuit boards are also protected against condensation and are enhanced with vibration protection that meets or exceeds MIL-STD810F, Method 514-3 and Cat-1 Proc 1.
C.O.T.S. products are designed to meet EMC radiated and conducted emissions MIL-STD 461E.
All C.O.T.S. products are manufactured in accordance with IPC-A-610.
Electrical [Input]
Nominal Vac (ip) 24
Actual (Vac) 22-35
Input Amps (Max) 40
Input Circuit Breaker 40A Magnetic
Noise on Input < 50 mV
Electrical [Output]
Output Voltage
(Charging Mode) 32.0 -0.05/+0.00 VDC
Output Voltage
(Bypass Mode) 28.0 +/- 0.05 VDC
Charging Amps 22A Continuous
Output Ripple & Noise < 20mV p-p @ 20A Load
Regulation
(Line & Load) < +/- 1.0% or 260mV, max.
Battery Banks 1
Stages 2 (Float and bypass)
Efficiency > 75% @ Maximum Output
Hold-Up Time 20msec., min. @ 24 Amps
Dynamic Response 1 sec., max.
Temperature Coefficient 0.02%/°C, max.
Over-Voltage Protection 32.25 VDC Latching
Duty Cycle Continuous 100% for 24 hours per day
Battery Load when OFF 25 milli-amps Max
EMC Designed to meet MIL461E
Visual Indicators Input On, Input Undervolt, Output Undervolt, & Overheat
Environmental Specification
Operating Temp. Range -40° to +50°C @ maximum output
Derate Linearly 2.5% per°C from 50°C to 85°C
(Optional pre-heater to allow -55°C operation available)
Humidity 0 - 95°C Relative Humidity
(non-condensing) with optional conformal coating
Audible Noise NONE Ødb @ 3 ft
Typical Service Life >10 years (87,600 hours)
Isolation Input / Output & Case 500VDC
Mechanical Specification
Length 17.0 in/ 43.2 cm
Width 8.2 in/ 20.8 cm
Height 3.5 in/ 8.9 cm (Without carrying handle)
Clearance 1 inch (2.5 cm) all around
Material Marine Grade Aluminium- rainproof
Finish Clear Chromate
Fastenings All 18-8 Stainless Steel
Weight 14.4 lb / 6.6 kg
Connections Cannon Connectors Shown (Other custom MIL-Spec Connectors also available)
Vibration Designed to meet MIL-STD810F, Method 514-3 and Cat-1 Proc 1
Interconnect IPC-A-610
Warranty 3 years(2 yr. extension avail.)
Benefits
Ultra-Quiet
Power sensitive electronics without interference
Rugged & Reliable
Ensure years of safe and trouble free operation
Fast & Accurate Charging
You have successfully added from to your part list.
---