Anatech Custom SAW Bandpass Filter: 400.1-1000 MHz
Product Announcement from Anatech Electronics, Inc.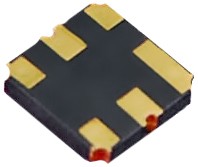 Anatech Electronics manufactures custom SAW filters to meet your specifications.
Saw (surface acoustic wave) Band pass Filters use Piezoelectric effect to convert an Electromagnetic signal into an acoustic signal, and vice versa. Saw bandpass Filters provide sharp cut-off characteristics, superior linear phase characteristics, and good stability over temperature.
SAW band pass filters are electromechanical devices commonly used in radio frequency applications. Electrical signals are converted to a mechanical wave in a device constructed of a piezoelectric crystal or ceramic; this wave is delayed as it propagates across the device, before being converted back to an electrical signal by further electrodes. The delayed outputs are recombined to produce a direct analog implementation of a finite impulse response filter. This hybrid filtering technique is also found in an analog sampled filter. SAW bandpass filters are limited to frequencies approximately up to 3 GHz.
To request a quote, please click here.
---