Custom RF Diplexers and Duplexers...
Product Announcement from Anatech Electronics, Inc.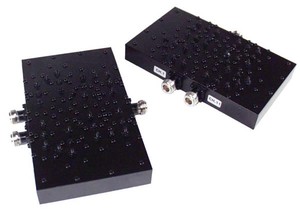 Anatech Electronics duplexers are available from 1 MHz to 10 GHz in 2 to 15 sections, with isolation as high as 100 dB, and RF power handling ability of 500 W or more. They are highly-customized products and are employed mostly to combine receive and transmit channel so a single antenna can be used to for both functions, and customized per a specific requirement. Standard Anatech duplexers as well as those designed to match the specifications of duplexers from other manufacturers are also available.
Duplexer complexity is defined by the closeness of the two bands, isolation, power handling. and power requirements. Anatech duplexers can be manufactured with connectors such as SMA, Type-N, BNC, TNC, and others, as well as for surface mount, and PB board mounting. They can be manufactured in special packaging to meet customer-specified mechanical requirements.
To request a quote, please click here.
---