Custom RF & Microwave Bandpass Filters..
Product Announcement from Anatech Electronics, Inc.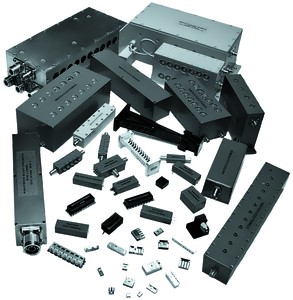 Anatech Electronics Bandpass filters cover the frequency range from 300 KHz to 20 GHz. These filters are available with 2 to 15 sections, with bandwidths from 1% to 100%. The common response type are Chebyshev, Butterworth, and Elliptic. Other response types are also used depending on the requirement.
Anatech Electronics bandpass filters are optimized for minimum insertion loss by keeping the package as small as possible. VSWR or return loss characteristics in the bandpass filters are also optimized for a good 50 ohms match impedance.
The bandpass filters can be designed for very narrow as well as very large bandwidths by using proprietary design techniques.
Our standard product characteristics depend on the complexity and the design approach. Parameters such as insertion loss and power handling capacity can be enhanced by using special design techniques.
Our bandpass filters are offered in several package styles such as connectorized, surface mount, and drop-in, as well as SMA, Type N, BNC, and TNC connectors.
---