High-power GSM cavity duplexer
Product Announcement from Anatech Electronics, Inc.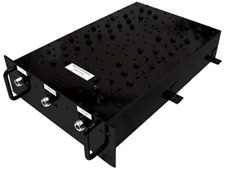 The AD850-931D202 cavity duplexer covers 902 to 960 MHz, uses Type-N female connectors, measures 382 x 257 x 85 mm, and handles 100 W. Passband 1 is 806 to 824 MHz and passband 2 is 902 to 905 MHz. Insertion loss is less than 1.5 dB, and isolation is at least 85 dB. Passband ripple is less than 0.2 dB, isolation is greater than 90 dB, and return loss is more than 20 dB. The duplexer will operate over a temperature range of -40 to +70 C.
This product is available on our Web store AMCrf.com.
---