Cavity duplexer for public safety wireless
Product Announcement from Anatech Electronics, Inc.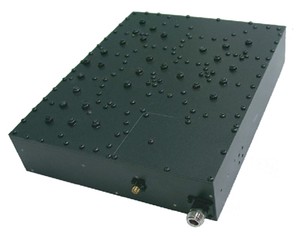 The AD452-462D218 duplexer has passbands of 450 to 454.8 MHz and 460 to 464.8 MHz, insertion loss of less than 1.5 dB, isolation of at least 85 dB, ripple of less than 0.2 dB, isolation greater than 45 dB, and return loss of at least 19 dB. It measures 226 x 287 x 65 mm. Anatech's line of cavity duplexers can be manufactured in surface mount, connectorized, printed circuit board mount, drop-in, as well as other configurations.
This product is available on our E-store, AMCrf.com.
---