Turnkey high class planetary Servo-Gearhead
Product Announcement from Andantex USA, Inc.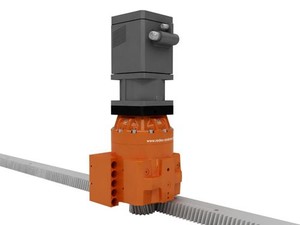 The KRPX housing is made of high quality spheroidal graphite cast iron. Its structure has been optimized with FEM analysis methods to avoid deflection during acceleration. Fixation is made by oversized screws to ensure a real stiff connection with the machine frame allowing the KRPX housings to be considered as an integral part of the machine main frame.
The output pinions are machined to the same diameter as the shafts, allowing the best possible balance between transmissible torque and rigidity at the rack. In addition, output shaft consists of two preloaded and substantially oversized tapered contact roller bearings support.
This exclusive design offers exceptional compound stiffness which allows to dramatically decrease the radial bending (up to 60% of the overall distortion) and to increase the natural frequency of the Rack & Pinion drive systems. By combining two high-tech planetary reducers, KRPX allows perfect mounting on both sides of the machine frame and enables true zero backlash when coupled with an electrical preload Pinions drive system.
Available in 5 standard sizes, KRPX is very compact, and easy to install. Ratios from 5:1 to 91:1 with feed force from 9000N to 155,000 N.
---