Industrial Rack & Pinion Gears
Product Announcement from Andantex USA, Inc.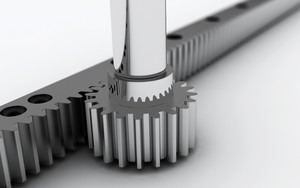 Andantex Industrial Rack and Pinion gears are the primary building block of a linear axis drive. This system consists of a standard range of straight ( spur ), circumferential pitch, and helical racks and pinions. The modular design permits rack segment lengths from 0.5 to 2 meters to be linked together end to end achieving any desired travel length from standard components.
Rack and pinions are available with different materials, heat treatments and quality levels to insure the correct balance of power, precision, and price to meet the application requirements.
Features:
4 quality levels available, up to Hardened & Ground ( AGMA 12)
9 standard modules from Module 1.0 to 10.0 ( Diametral Pitch, P,25.4 to 2.54)
Standard rack lengths up to 2.00 meters; longer travel lengths can easily be achieved by mounting the racks end-to-end.
Special/modified designs are possible.
Preloaded dual pinion gearboxes to eliminate axis backlash.
---