Emission Concentrator and Destruction Technology
Product Announcement from Anguil Environmental Systems, Inc.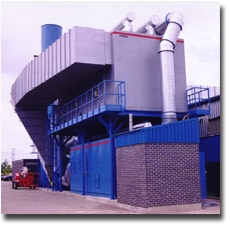 Reducing the air volume being sent to an oxidizer can save companies a significant amount of money in operating and capital equipment costs. The Anguil Rotor Concentrator is designed to concentrate large volume, low concentration process exhaust into a much smaller, highly concentrated air stream. The pollutant laden air is then sent to a thermal or catalytic oxidizer for destruction; dramatically decreasing the oxidizer size. Typical applications include but are not limited to large paint systems, Permanent Total Enclosure (PTE) exhaust and styrene emissions.
How the Emission Concentrator Works:
The high volume, low concentration airstream passes through a rotor concentrator wheel where the VOCs are stripped from the air and adsorbed onto the wheel. The majority (approximately 90% of the total air volume) of this clean air is then exhausted to atmosphere. A small portion of the air stream (approximately 10% of the total air volume) is heated to an elevated temperature to be used as desorption air. The concentrator wheel rotates continuously, transporting adsorbed VOCs into a desorption section. In the desorption section, the organics are desorbed from the adsorptive media with the low volume heated airstream. This low volume, high VOC-laden air is then processed by an oxidizer.
The Rotor Concentrator with Oxidizer is often the most cost effective technology for processing high volume, low concentration streams. While the capital cost of a system is competitive with other technologies, the true savings is realized in reduced operating costs.
Features:
Completely shop assembled, pre-wired and test prior to shipment
Zeolite adsorbent wheel minimizes risk of fires
Low pressure drop, typically 3"-5" W.C.
Destruction efficiencies greater than 95%
Concentration ratios as high as 20:1
Continuous operation as opposed to a batch type process
Concentrator wheel, desorption air heat and oxidizer integrated as a single system, simplifying installation and control scheme.
Available Options:
The Anguil Rotor Concentrator Advantage:
Regulatory Compliance Guaranteed
Complete Quality Assurance test prior to shipment
Engineering experience and flexibility to address a wide range of process conditions and applications
Proven system design with numerous installations all over the world
Competitive capital equipment costs
Expedited project schedules are available
Anguil's Cost Effective Design:
The rotor concentrator is designed as part of Anguil's broad line of technologically advanced, yet user-friendly, air pollution control products. Anguil's experience includes over 35 years of Regenerative, Recuperative, Catalytic and Direct-Fired oxidizer manufacturing, ranging in size from 100 to 500,000 SCFM (150-800,000 Nm3/hr). These oxidizers are used in conjunction with Scrubbers, Soil Remediation Equipment and Ceramic Filter Systems for industrial processes. Each product line represents value-engineered systems with emphasis on cost minimization. All systems are designed for seamless integration into the process, optimal performance and trouble-free operation.
Operating Cost Reduction Strategies:
Primary or secondary heat and Energy Recovery Solutions
Recirculation Systems
Oxidizer Service and Preventive Maintenance Evaluations (PME)
The Anguil philosophy is to provide innovative pollution control technology including engineering, equipment manufacturing, installation, startup and post-sale service. Other benefits to working with Anguil:
24 Hour customer service and support
Multiple technology offerings ensure unbiased recommendations
Complete aftermarket sales department
Over 30 years of oxidizer manufacturing experience
You have successfully added from to your part list.
You need Flash player 8+ and JavaScript enabled to view the Emission Concentrator and Destruction Technology video.
Get the Latest Flash player.
---