Direct Fired Thermal Oxidizer / Vapor Combustor
Product Announcement from Anguil Environmental Systems, Inc.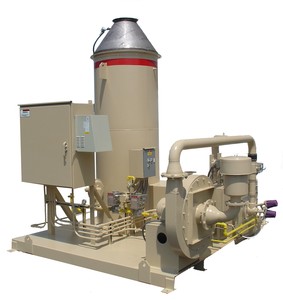 How the Direct Fired Thermal Oxidizer (DFTO) Works:
The Anguil DFTO achieves destruction of pollutants by the process of high temperature vapor combustion. VOCs and HAPs are oxidized to carbon dioxide and water vapor with the proper combination of temperature, residence time and turbulence within the combustion chamber. Sometimes referred to as an After-Burner, the direct fired thermal oxidizer uses a specially designed burner to raise the temperature of a pollutant laden air stream to a predetermined combustion temperature. In operation, the contaminated process exhaust is ducted into a burning chamber. Heat applied by the burner oxidizes the VOCs and HAPs creating harmless products of combustion (water and carbon dioxide). The clean, heated exhaust gas can then be discharged to the atmosphere or sent through an optional heat recovery system.
The Anguil DFTO can achieve over 99% hydrocarbon destruction rate efficiency. To achieve this the heated air is kept in the combustion chamber for a specified amount of time, called the residence or dwell time. At the inlet to the combustion chamber turbulence is generated to mix the pollutants and oxygen molecules. Proper mixing of the combustion air and process streams not only provides high destruction efficiencies but also safe operation. The Anguil design minimizes the risk of explosion and takes complete advantage of the VOC laden exhaust stream to minimize auxiliary fuel needs. An optional burner system is available to burn inert process streams directly in the burner as fuel.
From a small tank vent to the largest of ethanol plant applications, each Anguil DFTO is designed around our customer's application. Special designs can be provided to handle process streams that contain acids such as carbonic acid, hydrogen chloride or sulfuric acid.
System Components:
Process blower
Fuel train
Combustion / Dilution air fan
Ceramic fiber lined weatherproof combustion chamber
Combustion chamber access doors
Modulating burner
Fresh air start-up valve
System controls, interlocks and shutdown detector
Digital data recorder
Exhaust stack
Advantages:
Modular design for system flexibility and future expansion
Preassembly and factory testing reduces installation costs
Allen Bradley controls gaurantee proper system performance
High destruction efficiencies for regulation compliance
Safety shutdowns ensures safe operation
Options:
Heat Exchangers
Waste Heat Boilers
Heat Recovery Steam Generators
Insulated Ductwork
Material of Construction Options for Corrosion Resistance
High Temperature Acid Gas Scrubbers
Anguil's Cost Effective Design:
The Direct Fired Thermal Oxidizer is designed as part of Anguil's broad line of technologically advanced, yet user-friendly, air pollution control products. The Anguil product line includes over 1,600 installations of oxidizers ranging in size from 100 SCFM to 500,000 SCFM (150-785,000 Nm3/hr). Anguil offers a complete line of oxidation equipment including Regenerative Thermal Oxidizers (RTOs), catalytic and thermal recuperative oxidizers, self-cleaning ceramic filters, soil remediation equipment, rotor concentrators and scrubbers. Each product line represents value-added engineered systems with emphasis on cost minimization. All systems are designed for optimum performance and trouble-free operation.
The DFTO is no exception to the Anguil product offering; special design considerations are taken to maximize VOC / HAP destruction efficiencies and to minimize auxiliary fuel consumption. Heat exchangers, waste heat boilers and heat recovery steam generators can be utilized to capture any additional heat available, furthure reducing your operating costs.
Anguil has extensive experience in providing air pollution control equipment to a wide variety of industries, this gives us an unparalleled understanding of your industry. We strive to provide innovative pollution control technologies that include process analysis, system engineering, equipment manufacturing, installation and post-sale 24-hour service.
You have successfully added from to your part list.
You need Flash player 8+ and JavaScript enabled to view the Direct Fired Thermal Oxidizer / Vapor Combustor video.
Get the Latest Flash player.
---