Plate Heat Exchanger-up to 80% heat recovery!
Product Announcement from Anguil Environmental Systems, Inc.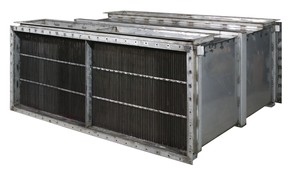 The all metal, all welded Anguil plate heat exchanger has the strongest, most durable primary end seal on the market and can handle those application where shell and tube exchangers used to be the only option.
The in-line wave, dimpled pattern plate heat exchanger ensures high efficiency without compromising strength. This unique design coupled with the welded construction allows it to withstand higher static pressures while achieving up to 80% efficiency.
Integrated into an existing system or installed as a stand-alone piece of equipment, the new Anguil Plate Heat Exchanger has many practical applications. From the smallest exhaust air stream (100 SCFM), to the largest of exhaust streams (>100,000 SCFM), the Anguil Plate Heat Exchanger will exceed your expectations of efficiency and durability. Anguil has designed & supplied hundreds of innovative, cost-effective solutions for customers in search of greater heat and power efficiency, either to augment their pollution control systems or as stand-alone energy cost reductions.
This is a particularly valuable practice in these times of unstable and rising fuel costs. Features:
· Low pressure drop, smaller foot print and reduced capital equipment cost
· Plate thickness ranges from 0.024" for high efficiency to a heavy-duty and durable 0.050" thick plate
· High efficiency 0.333" plate spacing to a very cleanable 0.625" plate spacing
· Plate sizes range from 12" X 36", mini heat exchanger up to a 60" X 144"
· Efficiencies can range from a 20% cross flow to a 80% counter-flow unit
· Vertical or horizontal orientations and multiple flow patterns available
· Aluminzed Steel, or 409, 304L, 316L and 309 Stainless Steels for economy, corrosion resistance and high temperature
You have successfully added from to your part list.
---