Learn About Regenerative Catalytic Oxidizer
Product Announcement from Anguil Environmental Systems, Inc.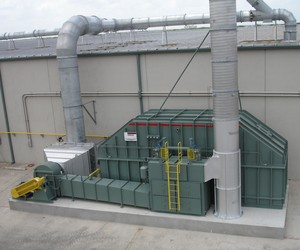 The Anguil system achieves VOC destruction through the process of catalytic oxidation, converting the VOCs to carbon dioxide and water vapor, recycling released energy to reduce operating costs
How the Regenerative Catalytic Oxidizer Works:
Process gas with VOC contaminants enters the Anguil RCO through an inlet manifold. A flow control valve directs this gas into an energy recovery chamber which preheats the process stream. The process gas and contaminants are progressively heated in the ceramic media bed as they move toward the catalyst. Adding the catalyst allows destruction to occur at much lower temperatures which limits the amount of auxiliary fuel required.
The VOCs are then oxidized across the catalyst, releasing energy in the second stoneware bed, thereby reducing any auxiliary fuel requirement. The stoneware bed is heated and the gas is cooled so that the outlet gas temperature is only slightly higher than the inlet temperature.The flow control valve switches and alternates the stoneware beds so each is in inlet and outlet mode. If the process gas contains enough VOCs, the energy released from their combustion allows self-sustained operation. For example, at 95% thermal energy recovery, the outlet temperature may be only 77° (25°) higher than the inlet process gas temperature.
PLC-based electronics automatically control all aspects of the RCO operation from start-up to shutdown so that minimal operator interface is required.
Features:
Completely shop assembled, pre-wired and tested prior to shipment
Skid mounted designs available for airflows up to 30,000 SCFM and single unit systems up to 75,000 SCFM
Up to 25% Lower Explosive Limits (LEL) RTO operation while self-sustaining as low as 3% LEL, reducing the need for auxiliary fuel
Gas trains designed for FM/TSSA/CGA certifications
Low NOX burner designed to maintain temperature during full flow, no VOC process conditions
Programmable Logic Controller (PLC) based controls with digital data recorder remote telemetry
Allen Bradley Variable Frequency Drive (VFD) allows for high volumetric turn-down during idle or low process conditions
Bake-out feature to remove organic particulate build up
Hinged access doors for ease of maintenance
Available Options:
Complete "turnkey" packages
Two chamber and multi-bed configurations
Forced or induced draft arrangements
Supplemental Fuel Injection (SFI) for increased fuel efficiency and ultra low NOX emissions
Hot Side Bypass for high loading conditions
Diverse material of construction options for high temperature or corrosive applications such as halogenated compounds
Skid or remote mounted panels and enclosure rooms available for system controls
Custom oxidizer design options to meet space restrictions
The Anguil RCO Advantage:
99%+ Destruction Rate Efficiency
Regulatory Compliance Guaranteed
System flexibility addresses a wide range of process conditions and easily controls multiple sources
Customized ceramic media with true thermal energy recovery up to 97%
Zero leakage, dual-disk Poppet valve design achieves 99%+ destruction efficiency without a puff chamber or reliability concerns
Low pressure drop reduces electrical consumption
Competitive capital equipment cost
Rapid installation time on most systems
Small equipment footprint
Anguil's Cost Effective Design
The RCO is designed as part of Anguil's broad line of technologically advanced, yet user-friendly, air pollution control products. Anguil's experience includes over 30 years of Regenerative, Recuperative, Catalytic and Direct-Fired oxidizer manufacturing, ranging in size from 100 to 500,000 SCFM (150-800,000 Nm3/hr). These oxidizers are used in conjunction with Rotary Concentrator Systems, Scrubbers, Soil Remediation Equipment and Ceramic Filter Systems for industrial processes. Each product line represents value-engineered systems with emphasis on cost minimization. All systems are designed for seamless integration into the process, optimal performance and trouble-free operation.
Operating Cost Reduction Strategies:
The Anguil philosophy is to provide innovative pollution control technology including engineering, equipment manufacturing, installation, startup and post-sale service.
Optional Equipment
Other benefits to working with Anguil:
24 Hour customer service and support
Multiple technology offerings ensure unbiased recommendations
Complete aftermarket sales department
Over 30 years of oxidizer manufacturing experience
You have successfully added from to your part list.
---