Shell and Tube Heat Exchanger for Process Heating
Product Announcement from Anguil Environmental Systems, Inc.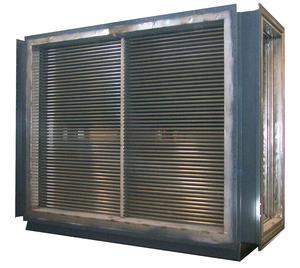 For decades, reducing the operating cost of air pollution control systems has been a driving force in the development of new control technologies. Advancements have been made to both air pollution control systems and the way these systems interact with production equipment.
At Anguil, our track record includes an ability to blend time-tested, standard products with innovative engineered solutions and quality installation. Some of the same strategies we've developed to drive down the operating cost of pollution control equipment can be applied throughout your plant to improve your bottom line.
One example of this is Anguil's Shell & Tube Heat Exchanger. For over 25 years Anguil's Shell & Tube Heat Exchanger has played a major role in helping customers achieve both their VOC Destruction Efficiency and Energy Efficiency goals by providing heat recovery efficiencies of up to 75%.
How the Shell & Tube Heat Exchanger Works All Air-to-Air Heat Exchangers are designed to transfer heat or energy from one air stream to another. In the Shell & Tube Heat Exchanger design, one air stream passes through the inside of a set of tubes, called the "tube side", while the other air stream passes over the outside of the tubes, called the "shell side". Heat is transferred from the hotter air stream to the cooler air stream through the tube wall, while the two streams never mix.
Traditionally, heat exchangers have played a critical role in Recuperative Oxidizer designs - both Thermal and Catalytic. The hot, treated air is used to preheat the incoming process air, cutting down on the fuel needed to raise the process exhaust air to oxidation temperatures, thus saving energy.
Over the years, heat exchangers have also been applied "outside the box". For example, many companies with operating systems similar to those diagrammed above have retrofitted another stand-alone heat exchanger to the exhaust stack. This application is often called a "Secondary Heat Exchanger" and can be used to heat fresh air for return to production ovens or dryers or simply as plant make-up air in cold winter months.
The critical design factors for an air-to-air heat exchanger application are:
The airflow rate of each air stream
The temperature of each air stream. The permissible pressure drop of each air stream
The desired heat to be transferred or the air temperature exiting the heat exchanger
Anguil will review this information and analyze your application with our Heat Exchanger Performance Modeling Program.
This program allows us to:
Model temperatures from ambient up to 1,800°F (980°C)
Model airflow rates from 100 to 100,000 SCFM
Perform a boundary layer analysis for your application
Adjust the tube thickness and spacing of your heat exchanger to maximize performance
You have successfully added from to your part list.
---