Cell Master MT8212E
Product Announcement from Anritsu Company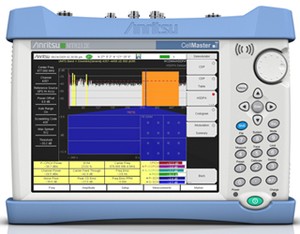 The MT8212E Cell Master™ Base Station Analyzer is ideal for installation and commissioning as well as for maintenance and troubleshooting. This optimal combination of base station test capabilities in one handheld device eliminates the need for several independent test instruments, thereby reducing the number of tools the user must carry and learn to operate. Whether it's sweeping cables, making power measurements, finding interference, troubleshooting base station signal quality, or verifying backhaul performance, the Cell Master MT8212E is the ideal all-in-one instrument to help keep your network up and running.
30 Analyzers in one
3GPP, including LTE, 3GPP2, WiMAX, and ISDB-T signal analyzers
Interference mapping with GPS guidance
Indoor and outdoor coverage mapping
Easy-to-use Touch screen
USB connectivity
Most compact handheld
You have successfully added from to your part list.
---