PIM Master MW8209A
Product Announcement from Anritsu Company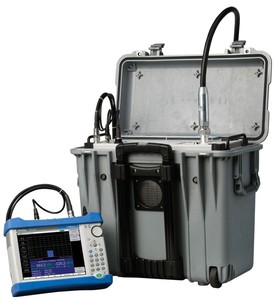 Anritsu Company introduces its first generation high performance PIM testing solution, the MW8209A, for the 900 MHz E-GSM cellular frequency bands. Anritsu has developed the PIM Master to verify if receiver interference at a cell site is due to an intermodulation product of two or more transmit frequencies, also known as passive intermodulation (PIM).
The Anritsu PIM Master features patent-pending technology - Distance-to-PIM™. In just a few seconds, Distance-to-PIM can find the distance and relative magnitude of all static PIM sources in an antenna system and beyond the antenna. Only Distance-to-PIM can find the location of:
Dirty connectors
Corroded connectors
Over torqued connectors
Microscopic arcing connectors
PIM outside the antenna system
PIM is power sensitive, and today there is more power than ever going up the tower. PIM Master features 2 x 40 Watts of RF power to activate the PIM, making it more visible to find the PIM that cannot be found on traditional 20 Watt PIM testers.
When you have to find PIM, and find it fast, the Anritsu PIM Master is your best solution with 40 Watts of power and Distance-to-PIM.
Features:
PIM Master MW8209A for the 900 MHz E-GSM cellular frequency bands
Featuring Distance-to-PIM™ (DTP)
The Fastest Way to Pinpoint the Source of PIM
Featuring 2 x 40 Watts of RF Power
Finds PIM that cannot be found by 2 x 20 Watt PIM testers
Tx Band: 925 to 960 MHz
IMD Band: 880 to 915 MHz
IMD Orders: 3rd, 5th, or 7th orders (user selectable)

Measurements:
PIM
Noise Floor
Distance-to-PIM (DTP)

Controlled with Anritsu Handheld Spectrum Analyzers
See PIM results with PIM Analyzer
Listen to relative PIM level with audible tone
Set Limit Lines for visual and/or audible Pass/Fail criteria
Save and Recall Set-ups for standardized testing
GPS tag PIM measurements with GPS Option 0031

Report Generation and Training
Utilize Anritsu's next generation Line Sweep Tool
PIM Master Certified PIM Measurement Training Course
You have successfully added from to your part list.
---