Highthroughput Rheometer HTR from Anton Paar
Product Announcement from Anton Paar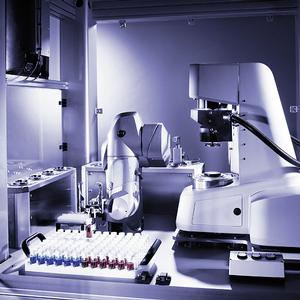 The first fully automated rheometer for high-throughput experimentation is based on the established Physica MCR series. The rheological measurement are carried out by the MCR and the Rheoplus software, while the robot takes care of the sample loading, trimming and the cleaning of the upper and lower measuring system.
Technical Highlights
Twenty-four hour operation
Reliable rheological measurement with a standard Physica MCR rheometer
For cone-plate, parallel plate and concentric cylinder systems
Fully automated sample loading and trimming
Barcode reader for sample identification
Fully automated cleaning with customized procedures
Full range of rheological measuring parameters in rotation and oscillation
Temperature control with Peltier heated and electrically heated systems
Software
Method development with the Rheoplus software
Automated analysis, printout and export of measuring data
LIM/SAP interface for software control through a master system
Methods and data are interchangeable between lab and automation equipment
Individual set of measuring and analysis parameters for any number of samples
Robotic Rheometry
See robotic rheometry in action - a film on HTR shows you the platform's setup, functionality and features. Click here to watch the teaser >>
You have successfully added from to your part list.
You need Flash player 8+ and JavaScript enabled to view the Highthroughput Rheometer HTR from Anton Paar video.
Get the Latest Flash player.
---