Multiparameter Measuring Systems
Product Announcement from Anton Paar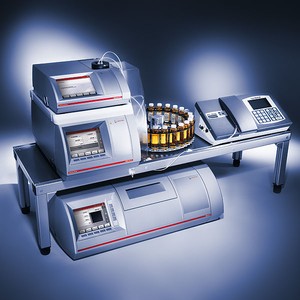 The multiparameter measuring systems of the Modulyzer series determine several parameters in the shortest time. The basic configuration, Prime class Modulyzer, consists of a Generation M density meter and an Abbemat refractometer. The Prime class Modulyzers are ideal entry-level models for laboratories. They can be upgraded with further modules at any time and customized for individual applications.

The basic configuration can be extended step-by-step to make an Unlimited class Modulyzer which determines optical rotation, turbidity, pH value, viscosity or color rapidly and precisely.
Combining the Modulyzer multiparameter measuring systems with semi-automatic or fully automatic sample changers additionally increases the degree of automation. The use of automatic sample changers saves time, reduces the required sample volume and ensures that users do not have to handle aggressive substances.
The unsurpassed multiparameter measuring systems can be used in many sectors and have simple LIMS interfaces. This means a Modulyzer can be integrated into the laboratory in a matter of seconds.
Are you interested in our new multiparameter measuring systems? Then contact our experienced product specialists today.
The Modulyzer multiparameter measuring system: The number one in accuracy and top-league players when it comes to versatility and flexibility.
---