Product Announcement from Anton Paar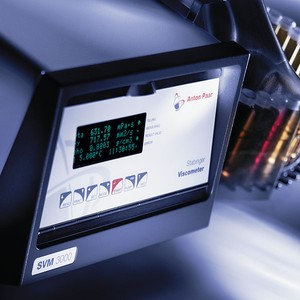 The SVM 3000 Stabinger Viscometer measures the dynamic viscosity and density of oils and fuels according to ASTM D7042. From this result, the viscometer automatically calculates the kinematic viscosity and delivers measurement results which are equivalent to ISO 3104 or ASTM D445. The Stabinger measuring principle with Peltier thermostat enables an incomparably wide viscosity and temperature range with a single system. SVM 3000 is quick, compact and energy-saving, versatile in use, with only small amounts of sample and solvents required. This makes it the most efficient high-precision viscometer on the market.
Time is money
Dynamic viscosity, kinematic viscosity and density in one measurement
Up to 30 samples per hour
Automatic filling and cleaning with Xsample sample changers
Automatic data processing with VisioLab software
Accuracy means quality
Proven quality in ASTM ring tests
ASTM D7042 provides results equivalent to ISO 3104 / ASTM D445
High-precision thermostat with stability of 0.005 °C
The software manages calibration constants - to prevent user errors
Economical with resources
From 2.5 mL sample volume (from 1 mL without density measurement)
From 2.5 mL solvent required
Only 75 W maximum power consumption
Needs only 0.25 m² space
No thermostatting bath required
Flexible and universal
Measuring temperature can be changed in minutes
You can quickly set up your SVM 3000 at another location
Independent of gravity and vibrations
SVM 3000 also works without a PC
Use under controlled atmosphere with the external measuring cell
You have successfully added from to your part list.

Play SVM 3000 Video
---