SurPASS - The Electrokinetic Analyzer
Product Announcement from Anton Paar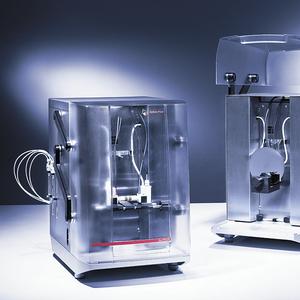 Use the SurPASS electrokinetic analyzer to investigate the zeta potential of macroscopic solids based on the streaming potential and streaming current method. The zeta potential is related to the surface charge at a solid/liquid interface and is a powerful indicator for the surface chemistry (pH titration) and liquid phase adsorption processes. The SurPASS helps you to understand and improve surface properties and to develop new specialized materials.
An indispensable contribution to solid surface analysis
High sensitivity for detecting small changes in the surface properties
Easy access to information on surface charge and related properties
From tiny particles to large wafers
Different measuring cells for flexible sample mounting
Cylindrical Cell for powders (min. particle size 25 µm) and fibers
Clamping Cell for non-destructive measurement of planar solids
Adjustable Gap Cell for small samples (20 mm x 10 mm)
Save time, reduce downtime
Quick exchange of measuring cells
Update of measured parameters every second
Intuitive software with well-known Microsoft Windows® features
Fully automated measurements
Automated measuring procedures requiring little manual interaction
Integrated titration unit gives you fully automated adjustment of pH and additive concentration
You have successfully added from to your part list.
---