Diplexers - Frequency Combiners
Product Announcement from Apollo Microwaves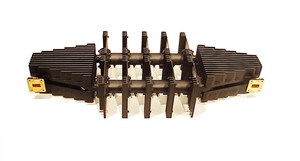 Apollo offers a comprehensive range of Diplexer Frequency Combiners that provide a low loss way to combine two channels into a single antenna. They have two input ports and a single output port. These diplexers are the building block of multiplexers. By cascading "n" diplexers, "n+1" channels can be combined into a single output. Units can be designed to meet specific power, frequency and configuration requirements.

Features
Extensive range of bands: C, extended C, X, Ku, extended Ku, DBS, extended DBS, Ka, and Q.
Power levels up to 10 kW
The directional nature of the hybrid allows the filters to be designed with fewer cavities and lower selectivity, producing a unit with a flatter response and lower loss.
The flatter response leads to a very low group delay transmission.
A very low input VSWR is achieved as the balanced filter mismatches are reflected into a load.
Third-order intermodulation products generated by the amplifiers are reflected by the filters and absorbed by the load.
The high power from the amplifier is split into two separate paths and only one half flows through each filter. This reduces the voltage breakdown and decreases the frequency shift due to temperature.
Very low loss and even heat distribution in the filters virtually eliminates the use of fans up to significant power levels.
Visit our website for more information on:
---