Satellite, Wireless, Military, Industrial &Medical
Product Announcement from Apollo Microwaves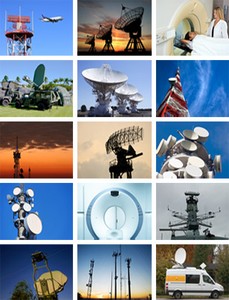 Apollo's passive microwave components and sub-systems can be found in fixed and mobile telecommunications systems, satellite earth stations, and wireless networks. Additionally, our products are used in military communications and radar systems, and can also be found in medical imaging and radiation therapy equipment, as well as for industrial materials processing and heating applications.
Apollo is a leading supplier of passive microwave components and sub-systems for the telecommunication, satellite and wireless communication industries.

We design and manufacture a wide range of standard and custom-engineered components for operating frequencies from 1 to 60 GHz, and for low or high power applications.

Located in Montreal, Canada, Apollo was founded in 1980. We operate in a world-class, fully integrated 60,000 square foot facility, with an experienced engineering team, specialized manufacturing resources, state-of-the-art testing equipment, and a stringent quality control system. Apollo is ISO 9001:2008 certified.

For over 30 years, Apollo has been delivering quality, value and reliability in microwave networks. Our strong R&D culture has earned us a reputation as an innovator and industry leader. We are dedicated to providing products that set the benchmark for low loss, high power handling, and maximum isolation.
Our extensive product information can be seen here.
---