Product Announcement from Appleton Electric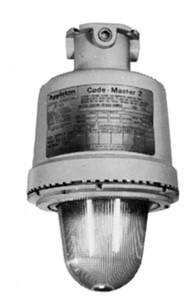 Take a new induction lighting technology and install it in the two best luminaries on the market for hazardous and corrosive conditions and you have long-lasting protection for all of your lighting needs. Twenty years of virtually maintenance-free operation translates into less shutdowns and fewer man hours spent servicing lamps. Appleton offers induction lighting systems in their Mercmaster™ III and Code●Master 2™ lighting fixtures. Mercmaster™ III fixtures are available in 55w and 85w models. Code●Master 2 ™ are available in 55w and 85w models. Induction Lighting is a breakthrough technology. At the core of the lamp is an induction coil, connected and powered by an electronic unit at the base of the lamp, which produces a magnetic field. The glass assembly and the material captured within it, surround the induction coil producing UV light. The inner portion of the glass is lined with phosphor coating very similar to that in fluorescent lamps. When energized by the UV light, the phosphor coating luminesces, producing light. By comparison, an incandescent lamp lasts an average of 2,000 hours. A metal halide lamp lasts an average of 10,000 hours. An induction system lasts fifty times longer than incandescent and ten times longer than metal halide, has higher color rendering and can start instantly with no warm up period. It becomes clear that an Appleton induction system is the smart choice for lighting that is used in locations where changing lamps is dangerous or operationally inefficient. For more information regarding Appleton Induction Lighting Systems request a copy of our "Endurance Lighting" brochure.
You have successfully added from to your part list.
---